MY 15 MINUTES OF FAME WITH CHARLIZE THERON
By Ron Merk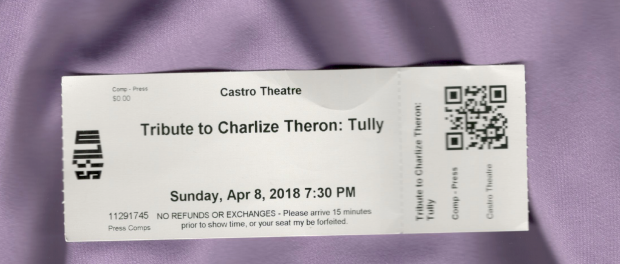 Charlize Theron has walked into my life twice. The first time was many years ago, at the world premiere of the Coen Brothers' film OH BROTHER, WHERE ART THOU? At The El Capitan Theater in Hollywood. It was a long time ago, 18 years ago actually, and at the time I had no idea who Charlize Theron was. But lo and behold, she was walking with us in the red carpet to a party and the building next door to the theater.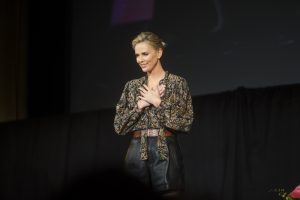 I never saw a more beautiful woman in my life. Everything about her was perfect, from face to figure, that wonderful sweet smile, her golden hair, blue eyes, and a glorious gown and jewelry. If it were up to me to cast Helen of Troy in a film, Charlize Theron would have been my first choice. My only choice.
Yet, Charlize seemed so innocent in some ways. Maybe that was and still is her charm. I was at the premiere with my late partner, Chris Holter, and we walked directly behind her, and chatted a little. Just normal things like "How are you?" "Nice Evening." "Where are you from originally?" But we never asked who she was. I think it would have been embarrassing for all of us. But as she walked in front of the long line of photographers, videographers and interviewers, we watched as she walked in beauty. It was a spectacle to behold. The first golden age movie star that came to mind was Grace Kelly. Poise and Perfection, and nothing but class. Class with a capital C.
As Chris and I stood by, Charlize graciously stopped and posed for every camera and spoke into every camera and microphone along the way, causing our walk with her to take at least 15 minutes to travel 75 feet. We chatted back and forth along the way. One by one she greeted those waiting to see her, giving each one a special pose or smile for their camera. She knew a few of them and said things like, "Good to see you again. Or "One more?" And then she gave them one more pose before she moved on. She kept looking back at us, and the crowd waiting behind us, as if to say, "sorry this is taking so long." I guess that's what so endearing about Charlize. She has never lost some part of her innocence and kindness that the rough reality of Hollywood life can quickly knock out of most people.
As we got to the building where the party was going to be, she leaned over to us and said, "Well, that was something I didn't quite expect. Hi, I'm Charlize Theron." Chris and I saw some photos in the papers the next day, and in a couple of them, you can see us. It was one of those moments of my life that I remember as clearly as those wonderful moments I shared with Charlize on the red carpet. I always tell my friends that I had a 15-minute date with Charlize Theron, because she made us feel like friends. It's a wonderful quality, and it's totally genuine.
I've been in the entertainment business for nearly five decades and I've met lots of stars, even known a few of them personally, but that night I realized that I had seen the "new classic star" of Hollywood, and her career from 2000 to the present is a great example of a beautiful woman becoming one of the most respected actors in the business, and ultimately one who produced many films on her own.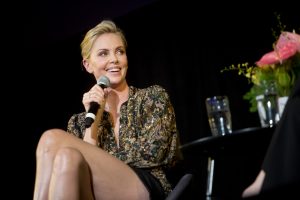 It seems that she has not changed in all the intervening years. When I saw her at the San Francisco International Film Festival tribute in the Castro Theatre this past week, I was amazed at how little had changed. She was spectacularly beautiful, had hardly aged in 18 years, and the brightness in her eyes was as brilliant as that night on the red carpet in Hollywood.
Charlize was interviewed by columnist Anne Thompson, to rapt attention by a sold-out house. She had added many stars to her movie star crown since I first met her. The most important was that she was totally engaged politically, working for inclusion of women in all aspects of film production, and of course, working to tell more women's stories with her films and projects. She also giggled a little when someone asked if there is going to be an "Atomic Blonde" sequel, and informed the audience, "we're working on it now." Excited applause followed. I think the crowd loved the idea that a woman could do a James Bond kind of kick-ass part. Jane Bond? Hmmmm….now there's an idea. Or maybe I ought not to tempt the power moguls with a money making idea?!
It was great to see Charlize again. No, we didn't have drinks afterwards. Sorry. No gossip to report. Only the thrill of seeing her again, and knowing that I was there at the beginning to watch this meteoric rise to stardom, and more importantly a woman engaged in the vital issues of our time. A great actress, and an uncommonly decent human being.