Stephen Parr
Oddball Video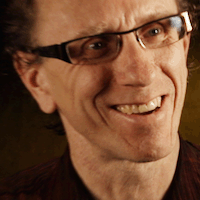 Read about Stephen on Vimby

I have known and worked with Stephen since I moved to San Francisco in 2003. We immediately recognized our share passion for film. He represented my stock footage collection. I bought clips from his library for my projects. We swapped equipment. Loaned each other film leader when one of us ran out of a specific kind but didn't have the money to buy a full roll from Eastman Kodak. We shared physical and information resources all the time. Occasionally we would meet for lunch in the Mission. He always knew the best (and inexpensive) places to eat. We talked film, film and more film. If there was a universe without film, I think Stephen might have invented it. It was this shared passion that made us friends.
They say that "birds of a feather stick together." I think the same can be said about those of us who have always been "outsiders" or "oddballs" for our whole lives. We share experiences, sensitivities and interests and a secret passion for some off-center subject. I've always thought that collectors were one of the great sub-species of the genus ODDBALL.
Why do people decide to collect anything: stamps, coins, art, or reels of movie film? It's hard to say, and I don't want to generalize. But I think there is one underlying motive than cannot be denied and may be the foundation of any collector's collection of whatever is their choice. It is the love of the objects they collect, and the obsession of saving those objects for the next generation. In my experience, there are few collectors who do this for financial gain. In fact, they save and scrape to buy that next "whatever it is." They invest in their collections: money, time and passion.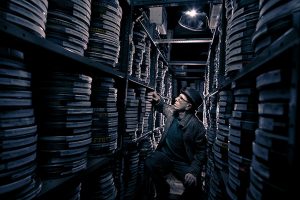 I think it's appropriate that Stephen Parr named his company Oddball Films and Video. Of all the oddballs I know, and I say that with deep affection and respect, Stephen best exemplified this category. Not only did he collect more than 50,000 films, he also collected all sorts of other ephemera that would be lost to the future had he not saved it. This includes a gigantic sign from the top of a building in San Francisco's Mission District, furniture and objects from the 1950s, mannequins, posters, signs, movie projectors, old chairs and so much more. They are all gathered in his 275 Capp Street building loft, and now wait for their next incarnation.
Sadly, after a long and terrible illness, Stephen passed away late last year. He, too, is headed to his next incarnation, and I'm sure he will continue to save the past and the present for the future. That is his great legacy to all of us, to our culture and to our collective history and consciousness. This quality of saving things, and sometimes even people, like the two children in Texas for whose schooling Stephen paid, quietly and without any fanfare, was the love of his life. There were many more lives that he influenced in a positive way. The list is long, and mostly he did what he did anonymously or without fanfare.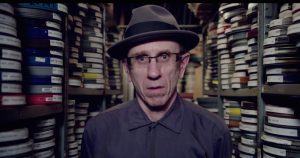 At his recent memorial at the Roxie Theater in San Francisco, which was "standing room only," friends and colleagues gathered to remember and honor him. The one thing I wish I had been able to get up and say, but for which there was not enough time on the program was this. Why is it that we don't understand what a gift someone is to our lives until they are gone? Stephen was a force of nature, a good friend and a wonderful colleague to me. I did speak to him a month or so before his death, with no idea how ill he was (he always sounded like he was not in the best of health with his oddball voice and tired delivery). I wish I had known about his illness. But I didn't. So, there's nothing I can say to him now.
But I hope my readers will keep in mind the lesson of losing someone as dear as Stephen, and remember to hug their close friends and family members more often. And to add a little more kindness to what they do as they walk through life. That was Stephen's mantra, and one I will always remember to honor.
Stephen Parr was the Webster's Dictionary definition of Oddball or should I write it ODDBALL?! When they made him, they certainly threw away the mold. He was truly one of a kind. I miss him very much.