I Wake Up Dreaming Noir Fest Continues at The Castro Theater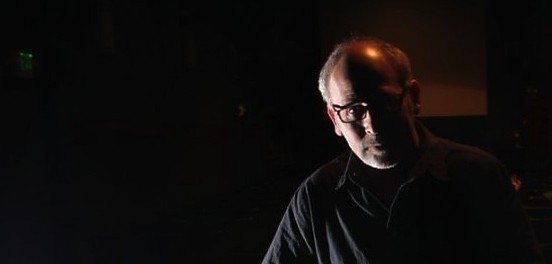 By Ron Merk
Elliot Lavine's series continues this Thursday at San Francisco's last remaining movie palace, The Castro Theater, for the fourth of the five installments of his "I Wake Up Dreaming" film noir series. Once again, all the films will be screened in luminous 35mm film, utilizing studio vault prints. This Thursday it's a triple feature, so you'll really be getting more than your money's worth. If you've not seen these films, and even if you have, here's the chance to see them the way they were meant to be seen, in 35mm on a giant movie palace screen. Elliot's introductions to the film are insightful and full of anecdotal information that only a true noir devotee like Elliot can provide. Don't miss this great program.
THURSDAY, AUGUST 27: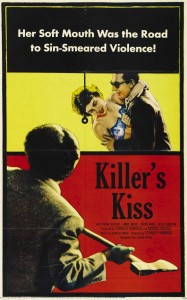 KILLER'S KISS. A boxer steps in when he witnesses a B girl being roughed up by her slimy lover leading to unexpected and violent consequences. A dreamlike soiree into a weirdly noir netherworld, it will stay rooted in your brain long after you leave the theater. Starring Frank Silvera, Jamie Smith, and Irene Kane. Written, directed, and photographed by Stanley Kubrick. 67 mins. 1955. 35mm Studio Print. Showtime 6:20pm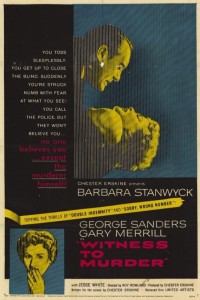 WITNESS TO MURDER. A woman awakens in the middle of the night and through her bedroom window witnesses a brutal murder! Despite her desperate pleas, no one seems to believe her — except the killer! A brilliant and thrilling noir classic, still relatively unknown to the general public. Starring Barbara Stanwyck, Gary Merrill, George Sanders (!), Jesse White, and Juanita Moore. Directed by Roy Rowland. Photographed by the legendary John Alton (!!!). 84 mins. 1954. 35mm Studio Print. Showtime 7:45pm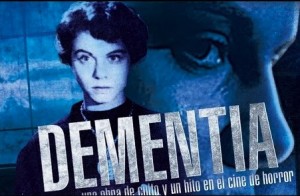 DEMENTIA. Time has turned this one-of-a-kind subversive beat-noir into the masterpiece it was destined to become. This cinema-rich nightmare of a young woman's plunge into madness is a visually sensational voyage unlike any you've seen before. Shot silent and eerily scored by George Antheil, this is not a film to be trifled with. Starring Adrienne Barrett, Bruno Ve Sota, and Ben Roseman. Directed by John Parker. Photographed by William C. Thompson. 56 mins. 1953. 35mm print. Showtime 9:30pm


For the complete program, or for other information, check out the I Wake Up Dreaming blog: http://iwakeupdreaming.com/2015/06/welcome-to-the-dream/
There's just one more show in this series at the Castro, September 3rd, but in September the festival moves to the East Bay. Watch for details here on Indieplex.
Read more about Elliot Lavine at: http://iwakeupdreaming.com/about/