Dream Another Dream With Me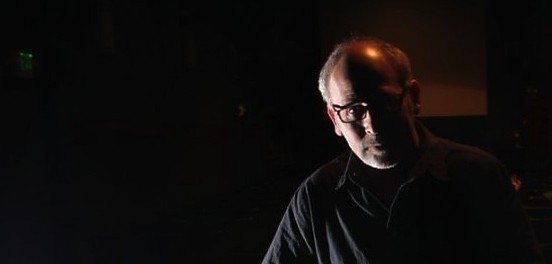 3rd Week of Noir Festival at Castro Theater
by Ron Merk
This Thursday marks the third week in this series of film noir titles curated by the redoubtable film noir expert and devotee, Elliot Lavine, in this five-Thursday series. If you have not attended the "I Wake Up Dreaming" series before, or have not attended it at the Castro Theater, its home this year for the first time since its move over from the Roxie Theater, you are truly missing an event. No audiences give a more of a hoot (literally) than audiences at the Castro Theater. Last week's screening, which included the noir comedy, "Dangerous Blondes," was a real treat, and the audience expressed its appreciation with a boisterous enthusiasm usually reserved for the Peaches Christ shows.
This week's bill includes more noir classics, preceded by tantalizing and well-informed introductions by Elliot Lavine. All of the films are screening in 35mm prints adding to the authenticity of the experience, and taking us back to the days these films were made and the way they were originally projected. If you think it would be the same experience if we saw them in digital projection, just attend the screening this week, and you'll completely understand that you're wrong in that assumption. The 35mm prints that Elliot has been able to book for the screenings have been excellent. The print of "Dangerous Blondes" last week looked like it had just come from the laboratory. Perfect and luminous. And who would have either thought noir could be so funny! I'm adding this to my list of favorite films.
Here's a look at this week's great line up!
THURSDAY, AUGUST 20
GUNS, GIRLS & GANGSTERS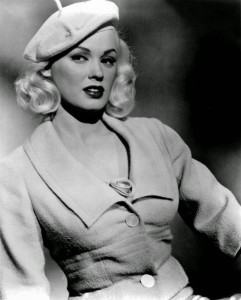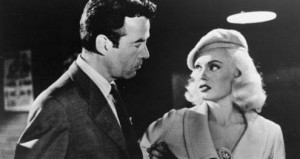 A deliriously demented B noir classic!! Sex and crime converge as an ex-con plans a daring Las Vegas casino robbery with the help some pretty shady characters, including the mind-bogglingly voluptuous wife of the con's ex-cellmate. All hell breaks loose when her husband busts out of the can and comes gunning for them. The incredible cast includes Mamie Van Doren (!), Gerald Mohr, and Lee Van Cleef (!). Directed by "King of the Bs", Edward L. Cahn. Photographed by Kenneth Peach. 70 mins. 1959. 35mm Studio Print. Showtimes 6:00pm and 9:15pm
INSIDE DETROIT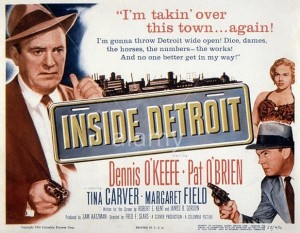 Racketeers square off in the Motor City over who gets to control a Detroit local of the UAW. Old-school noir horseplay on the mean streets of Detroit with a health dose of mid-50s repressed sexuality thrown in for good measure! Filmed on location! Starring noir stalwarts Pat O'Brien and Dennis O'Keefe. Also in the cast: Tina Caver, Mark Damon, and Joe Turkel. Directed by Fred F. Sears. Photographed by Henry Freulich. 82 mins. 1956. 35mm Studio Print. Showtime 7:30pm
Here's a link to Elliot Lavine's "Welcome to the Dream" blog: http://iwakeupdreaming.com/2015/06/welcome-to-the-dream/
If I haven't said it enough, let me risk overwhelming you with this recommendation once again, please don't miss this series. This is a rare opportunity to see these films as they were meant to be seen, in gorgeous 35mm prints on a giant theater screen, with the wonderful aroma of the Castro Theater's classic popcorn machine sending out memories of the good old days to go along with the films.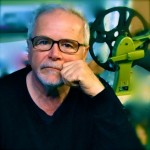 There are two more Thursday night screenings after this week's show. More noir classics coming your way. Try to catch them all.
Bravo, Elliot, for curating an amazing series of films, and for reminding us that film noir is an important part of American (and world) cinema history and tradition, year after year.