Remembering Rod Taylor (1930–2015)
The Light of Another Bright Star Has Gone Out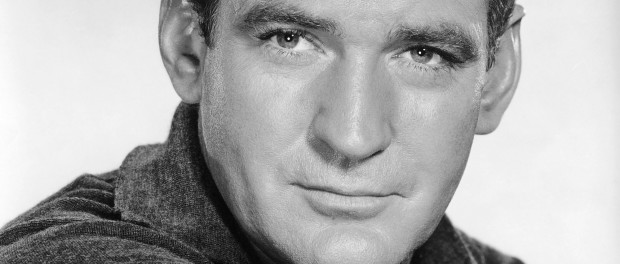 By Ron Merk
One of the last stars of the Golden Age of Hollywood has died. Little was mentioned in the press of his passing on January 7, 2015. I find it a bit sad that this is the case, and wanted to remedy the situation by a posting on Indieplex, including a personal recollection from a friend of Rod's, Mike Tristano, which will appear as a separate piece on this site.
Taylor is reported to have died at his home after a dinner party, surrounded by his family. His daughter, Felicia Taylor, said: "My dad loved his work. Being an actor was his passion, calling it an honourable art and something he couldn't live without."
Rod Taylor had a long a varied career, with some of the biggest hits ever in his "win" column, including GIANT, THE TIME MACHINE, and of course, Alfred Hitchcock's THE BIRDS. The list of his films, television appearances and stage work is amazing. This Australian native, with his good looks and husky male presence was a star in the truest sense.
I remember the first time I ever saw him on screen. I was 15, and attended a screening of THE TIME MACHINE at The Loews State Theater in Newark, New Jersey. Rod Taylor, appearing as the time traveller, commanded the screen just the way Errol Flynn had done thirty years earlier. He was soft and tough at the same time, vulnerable and strong, angry and understanding, and no matter how much dust and effects he had to endure, he always came across to those of us in the audience as a "movie star" above all. His acting was good. His accent, somewhere between Australian and English and American made him mysterious in a way. He delivered his line in a no nonsense way, no Actors Studio mumbling for this guy! We always knew what the character was up to, what he was thinking. Rod Taylor made that very clear to us.
I recall some teenage girls in the audience giggling and talking amongst themselves about what a handsome guy he was. Were they thinking of him as their father figure, or something else that might have awakened their sexuality? I'm not sure. But it was clear that Rod fascinated girls and women, and probably a few men, too. I just liked watching him work on the screen. He worked hard to make us believe it was easy for him. What he did seemed effortless and natural. To me, that's the sign of a real (and reel) actor.
One of my personal favorite performances is as the at-risk industrialist in THE VIPs, in which his secretary, Maggie Smith, pulls his bacon from the fire by borrowing money that her boss needs to save his company from a hostile takeover. She is clearly in love with him, but dares not do anything about it, because Taylor has a beautiful girlfriend with whom Smith could never complete in the looks department. But it's very clear to us (and later to Taylor's character) that her heart is much bigger than that of the pretty girlfriend. It's one of the few films in which Taylor actually portrays an Australian. While the other Taylor in the cast (Elizabeth), and her then-amour, Richard Burton, are the stars of the film, every scene with Rod Taylor is wonderfully appealing because of the special warmth he brings to his character. In the end, it's clear that he and his secretary will be sharing more than inner-office memos. It's all done with his face and his eyes, but we know than on some level he loves the Smith character.
Of course, if you have not seen him in YOUNG CASSIDY, you haven't seen his amazing ability to bring a character to life. Lusty and wild, in this biography of Irish writer Sean O'Casey, he drank, lusted and loved (Julie Christy) like no other on the screen at the time, and yes, he loved to spend time with his "mates" tossing back a few at the local pub.
Upon hearing of his death, Tippi Hedren, Taylor's co-star in THE BIRDS, Hedrin said Taylor had been "a great pal to me and a real strength. He was one of the most fun people I have ever met, thoughtful and classy. There was everything good in that man."
Another great light in the cinema firmament is gone, but his work remains for us to enjoy as long as we have movies and DVDS and streaming possibilities. He has left behind an impressive body of work. In that work the light of his life continues to burn.
TCM Remembers Rod Taylor – Thursday, Jan. 29 (All Times Eastern)
Turner Classic Movies (TCM) will air a five-film tribute to Rod Taylor on January 29, 2015. The following is the complete schedule for TCM's tribute to Rod Taylor:
8pm: The Time Machine (1960) – based on the 1895 novel of the same name by H. G. Wells
10pm: The Birds (1963, pictured) – starring Tippi Hedren and Suzanne Pleshette
12:15am: Sunday in New York (1963) – starring Jane Fonda and Cliff Robertson
2:15am: Young Cassidy (1965) – starring Julie Christie and Maggie Smith
4:15am: The Glass Bottom Boat (1966) – starring Doris Day and Arthur Godfrey