The Edwardian Ball and World's Faire – 2015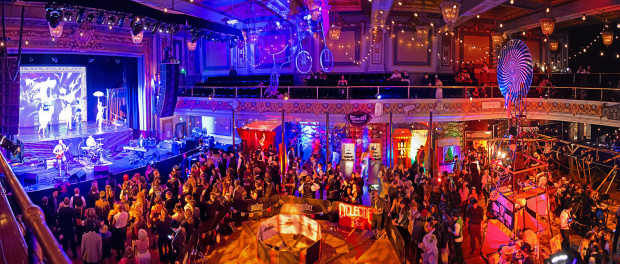 By Ron Merk
January 16th and 17th mark the return of The Edwardian Ball and World's Faire to San Francisco. Bigger and better than ever. If you've never attended this event, you're in for a gigantic happy surprise, and if you have, then you know what to expect? Or do you? With new events and entertainment added to the Bill of Faire each year, the 2015 edition of this event is as new as the New Year. The producers Justin Katz and Mike Gaines are pulling out all the stops this year!
Here's the link to the website: www.edwardianball.com
Check it out and buy your tickets before they're all gone. The 17th is already sold out. But tickets are still available for tomorrow, Friday, January 16. The event takes place at The Regency Ballroom, 1300 Van Ness Avenue, San Francisco, CA 94109. It's an amazing space and absolutely perfect for this event which captures the Zeitgeist and reveals how the respressive social mores of the time were pushed out of the closet by a very special brand of "naughtiness." You can sample it only at this event!
Before he was totally immersed in the final details, I had a unique opportunity to interview Producer Justin Katz about the event, how it came about and how it's grown to its present magnificent incarnation.
Ron: What drew you to the Edwardian Ball and World's Faire, and what is your specific role in the creation and programming of this year's event?
Justin: The Edwardian Ball was almost an accidental invention! In 1999 our band Rosin Coven decided to throw a party in Edward Gorey's honor, and to read his classic "The Gashlycrumb Tinies" onstage while we played music to accompany the narration and slides (yes, with a slide projector!) on the wall of the club. We used the name Edwardian to reference him, but also to give a playful historic twist to the event, and surprise… it was a hit! Our first year was maybe 150 people, then doubled, and again, and again. By 2006 we were in the Great American Music Hall, and needed to add a second night. Thus the World's Faire was born, so we were not duplicating The Ball itself for two nights.
But to step back, what drew (and draws) me to these events is the excitement of a huge group of people co-creating an event together. As co-producer with Mike Gaines in Vau de Vire Society, my role is overseeing everything, but controlling with loose creative reins. I love strolling the floors of the event and being surprised by what I see. Give people permission and resources and they'll exceed all expectations, the sum of this event is definitely bigger than any one person's vision, including mine.
Ron: Why do you think these events are so popular in San Francisco as a location (as well as Los Angeles)?
Justin: I think San Francisco is the natural birthplace for an event like The Edwardian Ball. At the dinner table tonight my family was having a discussion about what it means to be conservative vs. progressive or liberal, and we went on to explain to our 10 year old son how San Francisco is pretty much the liberal bastion of our country. What does that mean? It means people are open, excited, different, accepting, even celebratory of newness and difference. "Like Burning Man?" he said. Yes, just like that. It's an honor to be part of a small, offbeat celebration with global reach, really touching people's lives, from a city that has birthed everything from war counterculture and psychedelic music to Burning Man. I'm not in any way elevating The Ball to historic proportions, I'm just saying that it makes sense that a crazy, participant-based, open-minded, art-filled soiree fits right into the picture. And as for Los Angeles, after 5 years we feel like they're catching on! It's a little different down there, but over time we've seen people feel more comfortable exploring character and artfulness, and bringing their own great twist to a San Francisco tradition.
Ron: How does the event change from year to year, and what specific "new stuff" should attendees look forward to this year?
Justin: At the risk of sounding trite, it's all new each year. Everyone builds on the successes and challenges of the year before, and twists their creative ideas into new forms. Each year I swear if you ask 10 different people to describe the event, you'll get 10 different stories. Nobody sees the same thing… there's just too much to experience! You could invite the exact same cast of characters back every year, and you'd get an entirely different event. But of course we don't – we have new bands, new displaying artists, installations, emcees and circus artists, themes, fashion trends… it's a whirling shifting collage of elegant energy.
Thanks so much to Justin for this inside look, and to publicist Karin Conn for her assistance in arranging the interview and providing the photos.
I recommend going to the 4th floor early as it can get crowded. Bring something to trade with The Grand Artique If you're there on Friday, don't miss Vau de Vire Society and the Jazz Mafia's teaser show of The Soiled Dove – the dinner theater that is returning in March. If you're there on Saturday, don't miss Rosin Coven and Vau de Vire Society's stage performance of Edward Gorey's, "The Beastly Baby."
Nothing would be complete without jumping into the dress code (yes, you may see a few men in dresses, too). of the event and the Edwardian time. You are encouraged to submerge yourself in the revelry by putting a little (or a lot) of effort into your attire…please read suggestions here
Don't miss a chance to experience The Edwardian Ball and World's Faire. Put on your fancy clothes (Edwardian if you have them) or something sweet and snazzy if you don't, grab your honey, or honies if you like, and put those bells on your toes. You're in for a wild, wonderful time, back in the time when kinky was called naughty, and when no one was looking (well, perhaps through a peephole behind that painting of your grandmother in the parlour!) This is a unique chance not only to look into a bygone era, but also revel in it as if you had been there the first time around.
Please remember you saw this on Indieplex Online Magazine, and please tell your friends about us. We're easy to find on the web. It's www.indieplex.org
Always bringing you interesting stories, notices of fabulous events, and an occasional rant or rave about something that's grabbed our attention.