Not Always La Dolce Vita
Remembering Anita Ekberg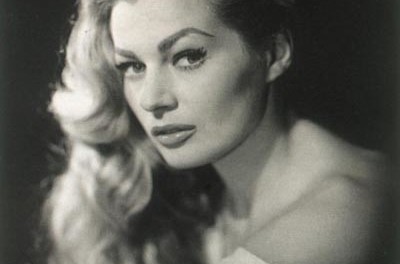 By Ron Merk
When we look up into the night sky and see a canopy of sparkles in the heavens, we may be seeing an illusion. Some of the stars that we see have long ago gone supernova, and no longer exists. But they are so far away, often millions of light years, that the light that they put out before their demise is just reaching us today. We are seeing only a memory of what was and no longer is. I think there is some connection between this idea and our connection to those who have left us.
When I heard the news that actress and cinema icon Anita Ekberg passed away today in Rome at the age of 83, I was truly sad. I don't know why. I never met her, but like most of us who followed her meteoric and storied rise to fame and stardom, I felt that I really knew her and that I had lost a close friend. I literally had tears in my eyes when I learned of her death today. It's unexplainable.
Her wading through the Trevi Fountain in an evening gown, driving Marcello Mastroainni made with passion, is for me one of the three most iconic moments for women in the history of cinema. Perhaps Marilyn Monroe's dress flying up while she stands on the subway grate in THE SEVEN YEAR ITCH, or Rita Hayworth taking off her gloves while singing "Put the Blame on Mame, Boys" in GILDA are equals to the image of La Ekberg in the fountain from LA DOLCE VITA. These are all images that have entered the collective consciousness of the whole world, and they continue to intrigue us for no other reason than the fact that all of them are stunning images of incredible actresses, each with their own unique expression of beauty.
Ekberg made many movies, few of which memorable or major entries in the history of cinema. But Ekberg, herself, was a special chapter in the story of movies. She rose to the attention of Hollywood after she became Miss Sweden in 1951. Her first role was that of a voluptuous Venusian (very volputuous, in fact, as voluptuous as it gets) in the comedy, ABOTT AND COSTELLO GO TO MARS. She also appeared in HOLLYWOOD OR BUST, starring Dean Martin and Jerry Lewis. The bust of the title could have referred to Anita, but it did not. She was invited by director King Vidor, who I once met at the home of Hal Roach, to be in the epic film to be shot in Rome of WAR AND PEACE, starring alongside Audrey Hepburn and Henry Fonda, and acquitting herself quite well as an actress rather than the sex symbol for which she was ultimately known and type-cast. I remember Vidor and Roach talking about Anita (this was in the late 80s) and what a "nice girl" she was, and quite talented as an actress if "someone would just give her a chance the way Fellini did."
It was in Italy that she came to the attention of Federico Fellini and ultimately landed the role that will secure her place not only in film history, but in the catalog of historic images that we all carry with us.
In 1970 I got to know Federico Fellini, and I remember a story that he told me about he and "Anitona" (Big Anita) as he called her always disagreed about who made who famous. He always claimed that he made her famous, but she always replied that she was famous before they met. Of course they remained friends after making LA DOLCE VITA, and worked together in BOCCACCIO 70, a film in which a character named Dr. Antonio, a moralistic idiot, wants to cover up her large breasts on a big billboard advertising milk. The scene of Dr. Antonio squeezed between two gigantic breasts like Anita's baby is one of the funniest scenes in film history. "Bevete più latte, bevete più latte!" ("Drink more milk!"), a song heard throughout the segment, sung by children, still echoes in my mind all these years later.
Fellini got to work with Ekberg one last time in the film INTERVISTA (The Interview), in which Marcello Mastroianni playing himself, goes with Fellini and a film crew to the villa of Anita Ekberg, where she serves everyone wine and chestnuts ("it's all I have in the house.") She and Mastroianni, both past their prime and stunning good looks, are re-united. Projections of some scenes from the LA DOLCE VITA's famous Trevi Fountain scene are projected on walls and sheets hanging on clothes lines, as the two re-enact their first meeting on the screen. Seeing the glowing images of Marcello and Anita from the 1960 film juxtaposed with the way the looked at the time INTERVISTA was filmed (tired, drawn and in Anita's case, a bit overweight) almost seems like a cruel joke perpetrated by Fellini. It was, in my opinion, an expression of his own sadness over the losses in his life, and ultimately it leaves us with a bittersweet feeling.
I guess that's what I'm feeling today. As for her place in cinema history, I think she will be remembered, for the fantasies that every young many had about her, and the reality of the amazing life that she lead. She lived, she loved. She was romantically linked with the likes of Frank Sinatra, Gary Cooper, Yul Brynner and Errol Flynn. She was married twice, once to actor Anthony Steele and to actor Rik Van Nutter, now both deceased.
At the end of her life it has been reported that she was penniless, living in a nursing home and looking for some support form the Fellini Foundation. She had no children and no family members to help her. I think she said it best in an interview with the Italian newspaper Corriere Delle Sera on the occasion of her 80th birthday, when she was asked if she was lonely. She said yes, a bit. "But I have no regrets," she added. "I have loved, cried, been mad with happiness. I have won and I have lost."
I don't think she could have said it better. So, Anita, thank you for the little bits of you that you have left for us on film, treasures we can enjoy whenever we think of you.