LOOKING – Second Season Premiere Has Them Cheering in the Aisles
At San Francisco's Legendary Castro Theatre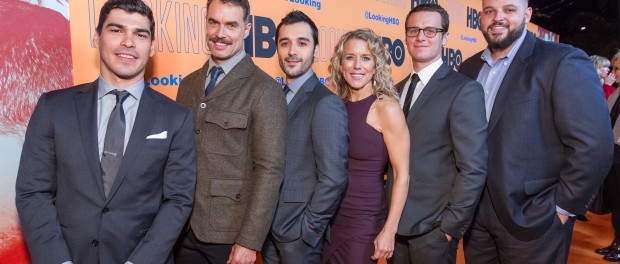 By Ron Merk
I was graciously invited by HBO, along with 1400 cheering fans to the 2nd season premiere of LOOKING. It was a star-studded affair complete with most of the cast showing up for the red carpet right in front of the Castro Theatre, where the event took place. From the moment I arrived at the event, it was clear that everyone on Castro Street was excited about San Francisco's very own gay-themed TV show.
Fans crowded behind the media contingent to get a good look at the cast members and to take their own photos. It was clear that the crowd was hungry for a look at their favorite studs in their latest adventures, as the show begins its second season.
Filmed entirely in San Francisco with director Andrew Haigh at the helm, we watch the cast move through the scenes as if we're looking in on real events, just guests at their parties and numerous sexual encounters. Okay, voyeurs for those!
Inside the legendary movie palace, the audience sat in rapt attention throughout the screening. The excitement before the screening was palpable, like children on Christmas morning, waiting to open their gifts. Their response at the end of the screening (which included the first two episodes of the new season) was clear: that this show was 'made to order' for the Castro neighborhood crowd, always hungry for shows and films that reflect their unique experience. There were howls of laughter throughout the premiere.
This season appears to be a slight departure in tone from the last season. LOOKING seems to have taken more of a comic turn, at least in the first two episodes under Andrew Haigh's direction. Of course, knowing these characters the way we do, we can definitely expect some "drama" as hopes and dreams are broken by reality and occasional bad choices by the characters. Yes, real life, real people, who just happen to be gay. As the show ended, there was rousing applause from a more than appreciative audience, and for the cast that then appeared on the stage for a spirited Question and Answer session.
While I've never been a big fan of Q&A sessions, mostly because of inappropriate or stupid questions from audience members, I have to say that the Castro crowd behaved, and of course, the cast hit the ball out of the park with their responses, full of charm, candor and intelligence. I heard several audience members speculating on which cast members were gay in real life. At one point I wanted to say, "none of your f—king business" but I held my tongue. Frankly, it's really no one's business, and they call it acting for a reason. The people on the screen are not the actor, but characters they create.
After the show, there was a huge party hosted by HBO at Terra Gallery, replete with some requisite drag queens from the always-present-at-every-San-Francisco-gay-event, the Sisters of Perpetual Indulgence. Food, drink, lots of eye candy and the usual jumping party music was enjoyed by the guests. HBO definitely knows how to throw a party! They are a class act. HBO is the real reason television has changed and truly matured so much since they began doing original programming. TV is now more adult, more inclusive, and definitely not our parents' network TV from the early days of the industry. I guess that's why HBO's advertising slogan "it's not TV, it's HBO" always said it best. HBO has changed the face (and faces) of television, giving opportunities to early career actors, writers and directors to do something new and innovative. Coming from New Jersey, how could I not have loved THE SOPRANOS?! My other favorite HBO show is THE WIRE, created and written by David Simon, and of course, TRUE BLOOD. HBO's movies that really impressed me are TOO BIG TO FAIL and GAME CHANGE. It's hard to say enough about their programming, but this evening is about LOOKING, so I will digress no further.
My colleague at Indieplex, Ozgur Pamukcu, who accompanied me to the screening, has done a two minute video report of the event, which can be see here on Indieplex as part of our Cinema Scope video series. Ozgur, who does occasional film reviews and articles for Indieplex, is an up and coming actor and singer from Turkey. Hope someone from Looking is looking!
I want to reach out to The OutCast Agency, Kristy Barker and of course to everyone at HBO for the kind invitation to Indieplex to attend the screening and party, and to Drew Altizer Photography for a number of the still photos used here in this article and in the video.
We at Indieplex wish the cast, crew and creative team the best for their second season of LOOKING, which starts on Sunday, January 11th. LOOKING can be seen at 10PM, 9 Central time on HBO.
If you were lost in the jungle, or stranded on a desert island last year, and want to catch up on the characters and what happened in Season One, you should take a look the video, which is out now on Blu Ray and DVD. You can find it on Amazon, of course. Always my first stop when I'm "looking" for movies or books!