Technicolor
All the Colors of the Rainbow... and More!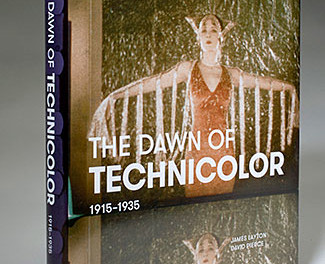 By Ron Merk
When I was a kid, when people talked about color movies, they used the word Technicolor. I remember one of my aunts saying they had just seen a new Technicolor film at the local theater. Not a color film, but a Technicolor film. Technicolor as a term for color films was as interchangeable as the word Kleenex was for paper tissues. Until Eastman introduced its Eastmancolor negative in the early 1950s, Technicolor was really the only game in town if you wanted realistic, beautiful color. I remember seeing re-issues of "The Wizard of Oz" and "Robin Hood" at Saturday matinees at the Tivoli Theater in Newark, New Jersey in the mid-50s. These were sparkling Technicolor prints, made in the 3-strip process. The color of Technicolor was in a world of its own. In fact, it created a world on the screen that did not exist in reality. It was a stunning alternative to reality.
Technicolor, using its amazing dye-transfer process, could literally reproduce all the colors of the rainbow. Primary colors were true and pastels were beautiful. I remember skin tones of the actresses looking so perfect… peaches and cream people used to say. If you look at color films today, see if you can find dark forest greens, pure yellow, and purple. Purple is hardly ever seen in films today. It's all about technology and chemistry. Technicolor chemistry was complicated, but it created color that has never been seen since. Many refer to it as Glorious Technicolor.
Sadly, due to economics, studios stopped shooting films using the bulky Technicolor cameras in the early 1950s. Technicolor stopped making dye transfer "3-strip" prints when studios opted for the cheaper, easier to print, Eastmancolor prints. Yes, a few dye-transfer prints were made at the request of filmmakers like George Lucas and Francis Ford Coppola in recent history, but the dye transfer print line is long gone at Technicolor. In fact, Technicolor closed down its film lab in Los Angeles recently.
As an avid moviegoer when I was a kid, most films that were released were in black & white, and when a Technicolor film was on the bill, my face always lit up. I knew it was going to be something special. I will always have a special place in my heart for Technicolor, and for its inventor, Dr. Herbert Kalmus, who made it possible. Technicolor was truly glorious. Happy 100th Birthday.
To celebrate the 100th anniversary of Technicolor this year, and George Eastman House has created an amazing retrospective of Technicolor, the company, the process and the films, including a new book about early Technicolor films. You can read more below, in a recent press release from George Eastman House.
George Eastman House to Celebrate the 100th Anniversary of Technicolor
Celebrations to include a major exhibition, multimedia website, landmark book, and international film retrospective
From 1915, the Technicolor Motion Picture Corporation and its revolutionary color processes transformed cinema forever. To celebrate the one hundredth anniversary of Technicolor's incorporation, George Eastman House is curating a blockbuster exhibition and film series, creating an online exhibition, and publishing a landmark book. In addition, an international retrospective of films from the museum's collection has been jointly curated by Deutsche Kinemathek, the Museum of Modern Art, and the Austrian Film Museum, and will premiere at the 65th Berlin International Film Festival in February.
The exhibition In Glorious Technicolor, opening January 24, 2015, celebrates the vivid history of one of the most widely recognized names in the American film industry — a company whose revolutionary motion picture color process enabled such Hollywood masterpieces as The Wizard of Oz (1939), Gone With the Wind (1939), and Singin' In the Rain (1952). Composed of stunning visual displays, this exhibition features original artifacts and projected video clips to explore Technicolor's wide-ranging impact on the form and content of cinema, and draws heavily from the vast Technicolor Corporate Archive now held at George Eastman House.
"In Glorious Technicolor is the first major exhibition dedicated to Technicolor's enduring legacy," said Paolo Cherchi Usai, Senior Curator of Moving Image, George Eastman House. "George Eastman House is uniquely positioned to examine Technicolor's history through our unparalleled collections of Technicolor films, equipment, and papers. We have created a truly multimedia exhibition showcasing all of the elements that make Technicolor so influential in the moving image industry."Color's wide-ranging impact on the form and content of cinema, and draws heavily from the vast Technicolor Corporate Archive now held at George Eastman House.
Highlights will include the company's evolving camera technology, from its first handcrafted camera from 1916 to the massive Technirama widescreen system of the 1950s. Original costumes, production designs, posters, and photographs will document how color was used creatively and presented to the public, while the vibrant dyes used to create Technicolor's incomparable "look" will shed light on the science behind the process. Rare tests from Douglas Fairbanks's The Black Pirate (1926), behind-the-scenes stills from the Errol Flynn's The Adventures of Robin Hood (1938), and home movies from the set of The African Queen (1951) will reveal the stars and filmmakers most associated with color. Additionally, the exhibition will honor the achievements of Academy Award–winning cinematographers Ray Rennahan and Jack Cardiff, as well as Technicolor's often overlooked engineers, whose work remained largely out of the limelight. A Technicolor film series, curated by George Eastman House, will screen throughout the length of the exhibition at the museum's Dryden Theatre. For more information, visit dryden.eastmanhouse.org.
To complement In Glorious Technicolor, George Eastman House will present two works by British visual artist Aura Satz, whose oeuvre cuts across film, sound, performance, and sculpture. The installation, Eyelids Leaking Light, will feature the US premiere of Satz's new work, Chromatic Aberration (2014), in which she explores the aesthetics of "color fringing" by using film elements from the Eastman House collection. Chromatic Aberration will be exhibited alongside Doorway for Natalie Kalmus (2013), an audiovisual work that transforms a Bell & Howell color film printer into a grotto of prismatic lights. Eyelids Leaking Light will run concurrently with In Glorious Technicolor through April 26, 2015.
An online version of the exhibition will also be available, made possible in part by a grant from the Institute of Museum and Library Services. To be launched in January 2015, the site will allow users to explore Technicolor's rich history through original artifacts in the museum's collections. It will also act as a portal for audiences to engage in other Technicolor centennial celebrations occurring throughout 2015 at the museum, including the film series, gallery exhibition, and book launch. The website will facilitate access to highlights from George Eastman House's unparalleled equipment and documentation collections that have previously been accessible only to on-site researchers. Creative, corporate, and technological milestones in the company's history will be illustrated with high-quality digital reproductions of historical artifacts, new animated graphics, and interviews with curators and experts. The multimedia website will be live on January 24, 2015, and can be found by visiting eastmanhouse.org/technicolor100.
George Eastman House's collection of Technicolor films has inspired a film series dedicated to the various Technicolor processes to celebrate Technicolor's impressive cinematic legacy. A selection of movie masterpieces for an international tour was put together jointly by Deutsche Kinemathek, the Austrian Film Museum, and the Museum of Modern Art. The curated program is entitled, "Glorious Technicolor: From George Eastman House and Beyond" and many of the original prints and modern reprints will come from the extensive collection at George Eastman House. The complete series will debut in Germany at the Retrospective of the 65th Berlin International Film Festival (Berlinale) in February 2015. It will include thirty Technicolor films from the United States and Great Britain. Additional information on the Berlin festival and the Retrospective section can be found at berlinale.de. Following its premiere at the Berlinale, the film series will be shown at The Museum of Modern Art, New York, and the Austrian Film Museum, Vienna, Austria.
The Dawn of Technicolor, 1915–1935 is the first detailed history of Technicolor's formative years. The lavishly illustrated book draws on a wealth of previously untapped internal documentation, studio production files, and firsthand accounts. Written by James Layton and David Pierce and edited by Paolo Cherchi Usai and Catherine A. Surowiec, The Dawn of Technicolor includes the first comprehensive filmography of two-color Technicolor titles. The book will have its official launch during the 65th Berlin International Film Festival within the framework of the Retrospective "Glorious Technicolor." The 448 page book is available now for pre-order ($65/$58.50 Eastman House members) and will ship by February 1, 2015. To purchase, visit eastmanhouse.org/dawnoftechnicolor. We invite you to follow and join the online conversations related to all of the Technicolor centennial events at #Technicolor100.
"The publishing of The Dawn of Technicolor was a true collaborative undertaking at George Eastman House," said Bruce Barnes, Ron and Donna Fielding Director, George Eastman House. "I am beyond proud of the work that was put into it by its authors and editors and by our staff, and the final result is a remarkable work of scholarship that we are excited to share with the world."
About George Eastman House
George Eastman House is located on the estate of George Eastman, the father of popular photography and motion picture film. Eastman House comprises world-class collections of photographs, motion pictures, photographic and cinematic technology, and photographically illustrated books. Established as an independent non-profit institution in 1947, it is the world's oldest photography museum and one of the earliest film archives. The archive houses 28,000 film titles and 4 million film-related publicity stills, posters, scores, scripts, and pre-cinema artifacts. The Technicolor Collection—incorporating documents, photographs, films, dyes, and equipment—is by far the largest set of materials on the company, its history, and its pioneering technology. Eastman House also holds the world's largest collection of camera technology. Learn more at eastmanhouse.org.