"Plastic Man – The Artful Life of Jerry Ross Barrish"
Mill Valley Film Festival – Film Review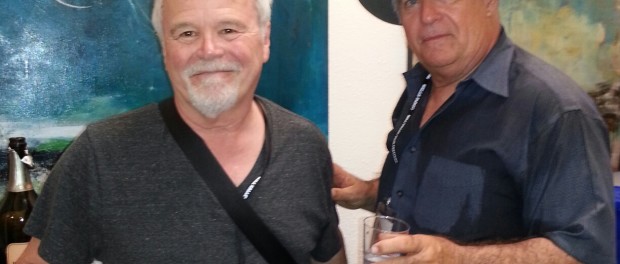 By Ron Merk
I sat high up in the last row of the balcony of the Sequoia Theater in Mill Valley yesterday, watching this engaging and inspiring film on the giant theater screen, thinking to myself, "I hope this is a good film." Because the filmmaker, William Farley, is a close friend of mine, I found myself in that unenviable position of wanting this to be a good film and having to be honest in my review. I also know Jerry Barrish, the subject of the film. Talk about being between a rock and a hard place as a reviewer!
But in minutes my anxiety was completely relieved, as I witnessed what I think is Farley's finest work, in a long career of making films independently in the Bay Area. He's made shorts, features, documentaries, all taking on subjects that most would consider a bit "off center." Every film of his that I've seen is clearly artful and insightful into its subject. Bill is a true film artist, and this is his masterpiece. Like his subject, Jerry Barrish, Bill has had to balance art and commerce his entire creative like. I guess that's true of all artists. To create art in today's economy often requires a day job which takes away from making art. Raising money for films is work, to be sure.
But with the help of Producer Janis Plotkin, Bill was able to raise the money to make this film with a very high level of technical expertise from a great team, including the indomitable Richard Levien as his editor, and Beth Custer, who contributed a music score that not only gives the subject, Jerry Barrish, a sense of humor and humanity belied by his serious, sometimes grim face. After the screening, I asked Jerry, Bill and Janis to pose for a photo, and when I prompted Jerry to smile, his response was, "I don't smile."
Of course you're asking why, right? Well, a long, tough life, working hard every day, and coming from a family (as he explains it) that could not understand his interest in being an artist, with a father who was "mob-connected" and emotionally, if not physically, distant from his son for most of Jerry's life.
Jerry's art of choice at present is sculpture, but in the past it was filmmaking. As I watched Farley's documentary, I was quite surprised that Jerry had agreed to the invasive idea of someone making a film about his life. But as you see in the film, Jerry has done many things that can be seen as reaching out to others, including bailing out of jail more than 700 people during one demonstration by the Free Speech Movement back in the 1960s. Oh, didn't I tell you that Jerry's day job, until just recently, was as a bail bondsman, with an office and a neon sign with his name on it, right across the street from the Hall of Justice in San Francisco. "Don't perish in jail, call Barrish for bail," the sign in the window proclaims.
When he was a young man, Jerry accompanied his father on a trip to LA where Jerry's father introduced him to infamous LA hood, Mickey Cohen, and the bail bondsman who sprang Mickey from jail after Cohen was indicted for murder. When the bondsman asked Jerry what he wanted to do for a living, and Jerry had no idea, the bondsman suggested Jerry take up the profession. After some years in the army, and with $10,000 worth of winnings from poker, Jerry established his company, Barrish Bail Bonds.
But the artist in him was always struggling to come out, and the film deftly portrays Jerry's second career as an artist. As a filmmaker, and then as a sculptor, creating astounding human and animal characters from his chosen material, plastic. Not just plastic, by "found-plastic," the throw-aways of the industrial age, found on beaches, in waste bins, on the street, and transformed by Jerry into magical beings with lots of emotional expression.
Jerry's choice of materials, in some ways, has created a barrier for him to achieve a major gallery or museum show. The art world can be very snobby, and working in plastic as his medium instead of more traditional materials, has created a strong resistance to curators mounting a major show of Jerry's work. But towards the end of the film, Jerry is given the opportunity to apply for a commission to create a 30- foot statue in bronze. More than 300 artists applied, and Jerry finds himself among the 30 finalists. I won't be a spoiler and tell you the results of the competition, so you'll have to see the film (which is running again at Mill Valley).
Farley's friendship with Barrish is clearly why the film works so well. Farley is able to strip away Barrish's emotional armor, bit by bit, until we see a clear portrait of the man and the artist. There's a wonderful montage of Barrish's work, artfully photographed by Ashley James, in which we see very clearly that these human and animal figures that Barrish creates are revealing some inner emotion of the artist, whether it be fear or job or something in between. Farley, in his interviews with Jerry, Jerry's mother, and others, pulls out of each of them some small detail about Jerry, and Richard Levien's deft cutting of this material, helps further illuminate the soul of the man being portrayed.
As the credits on the film rolled, my anxiety about reviewing a friend's film was completely forgotten. I can say, without reservation, that this is Farley's best film.
I highly recommend it, and I am pleased to say that William Farley is one of my close friends, and a true artist. Bravo, Bill! Bravo to everyone on the team that brought this portrait to life. And thank you, Jerry Barrish, for letting us in to the mysterious and wonderful world that only you inhabit.