October 24th is Global Super 8 Day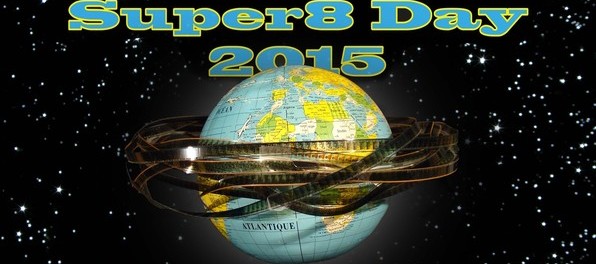 By Ron Merk and Peter Pfluger
Yes, it's the 50th anniversary of the introduction of Super 8mm film into the amateur home movie making market. If you don't know anything about Super 8, it has a larger image area on the film and smaller sprockets on one side of the film instead of two. Thus the frame size (and image quality) is substantially larger than regular 8. It also has the possibility of a sound track (mostly magnetic) on the unperforated edge of the film. Super 8 sound cameras were the rage for a while, before the introduction of home video cameras. They allowed people to not only be seen on 8mm films, but also be heard. While the sound was never super, at least we could hear grandma speak, and hear our children's first words, too.
Film enthusiasts all over the globe are celebrating this historic date. If you're interested in learning more, or participating, or even doing your own local event, here's a link that can help: http://gs8d2015.jimdo.com/gs8d-2015/
I know this might be hard to believe, but there are lots of people in the world who are still shooting standard 8 and Super 8 film, in those whirring wonder-making 8mm movie cameras. I still have (and use) the regular 8 camera that I won in grammar school for selling the most magazines (money goes to school programs).
I even used the camera just a few months ago a public event in San Francisco, and more than 50 people walked up to me in three hours to ask, "are you running FILM through that camera?" Or when they learned it was film, they just said, "Wow" or "Cool." People understand that film is special. Let's keep reminding them so that film is with us for a long time.
The two people co-ordinating Global Super 8 2015 Day are David Pfluger and Florian Olloz. Here's a little background on how this event came to be.
Global Super8 Day started in the year 1998 when there was a revival for Super 8.
Lutz Kayser of Hamburg's Super 8 Group ALL NIZO (www.anrrp.org) etched the term "Global Super8 Day" in 1998 when he visited a Super 8 festival "Formel Super 8" (www.formelsuper8.ch) in Zürich, Switzerland. Beatrice Jäggi and Saro Pepe, the organizers of the festival picked up on the idea and together the first Global Super 8 Day in the year 2000 was planned as a global event. Since then the idea took on a life of its own with Global Super * dayss are celebrated independently.
In 2005 there was another attempt to coordinate Global screenings on one day, which resulted in about 40 events on May 8th 2005 mostly in the US, Europe and Australia (www.super8.ch/globalsuper8day/may2005/participants.shtml).
Peter Pfluger has been Super8 filmmaker since 1994 and got in touch with Beatrice and Saro in 1999. He held annual screenings of Super 8 films from 1998 to 2008 in Basel, Switzerland. His own work consists of mostly animated films but has mostly shifted to experimental and installation works in recent years. He has worked together with Florian Olloz since the year 2000 when they founded Mobileskino (www.mobileskino.ch, www.d8y.ch). Peter also developed a Looper for Super8, the Looper 8 (www.looper8.ch).
Due to Peter's interest and jobs in film post production and film conservation he has always been well updated on what is going on in terms of the shift in the film industry transitioning from analog to digital. As for all other film formats the consequences have been severe for the Super 8 community.
Reactivating Global Super 8 Day for the 50th anniversary of Super 8 is a logical consequence of the gravity of the situation. Super 8 has, in the last decade, very much profited of the initiative and creativity of the community that still uses the format. As the industry loses interest and it get's harder to offer services for profit it's up to the geeks and enthusiasts to take the steering wheel in hand.
Global Super 8 Day 2015 will be celebrated on Saturday 24th of October 2015.
Global Super 8 Day 2015 will be an event where the individual organizers will play the main role. The only imperative commonalities are the date and the format. On everything else the organizers are free to decide how they want to celebrate the day. Screening, performance or installation are all fine. The fact that the Super 8 community consists not only of filmmakers but also of performing and visual artists widens the range of possible events.
Mobileskino, as initiator of Global Super 8 Day 2015, will run the website and help organizers to network. With the help of the Internet, small local communities of Super 8 fans can find like-minded people near and far. We are still thinking of other ways to let the event profit from the network we are building up, but there is still a lot of time until October 2015, so we're still examining and developing ideas.
To date we have received messages from people in 34 cities in 17 countries on 4 continents who plan events. We're very excited about that and there's still more than a year to go…
For those of you who love film, and especially Super 8, here's the chance to get in touch with others all over the world who share the same love.