BERTOLUCCI – A Film Series
features THE CONFORMIST, THE SHELTERING SKY, LAST TANGO IN PARIS and a newly restored 3D Version of THE LAST EMPEROR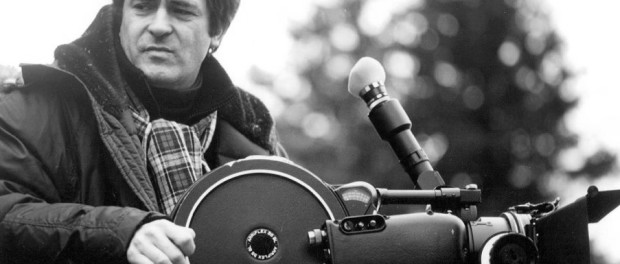 at the Castro Theatre in San Francisco
Saturday, October 18, 2014
I remember when I saw my first Bertolucci film at the New York Film Festival in the mid-sixties when I was a film student at NYU. The film was "Before the Revolution," and it was very clear to me that Bernardo Bertolucci was going to be someone to watch, someone with a unique cinematic visions. While the film was not a mega-hit in the sense that his later films would be, it showed Bertolucci as a fearless director, both in form and content. In a very short time, he would become a true star among directors, and launch a series of films that found success not only in Italy, but in the international market. Unlike many Italian directors who wanted to make films only in the Italian language, Bertolucci instinctly understood that if he wanted to work on bigger budgets, and with the support of American film studios, that he had to work in English. Embracing this new language would open doors for him all around the world.
Whatever Bertolucci's filmography might lack in the number of titles, it more than makes up with the complexity of each film. He is a true artist of the cinema, not an appellation I would apply to many directors. This month, in San Francisco, we will get a unique chance to see these films on the big screen, and one recently converted to 3D by Bertolucci.
The Istituto Luce-Cinecittà in Rome, the Italian Cultural Institute of San Francisco and program director Amelia Antonucci present BERTOLUCCI – A FILM SERIES. Following the success of the 2013 film series PASOLINI, we are presenting four of the most successful and loved works by legendary Italian film director Bernardo Bertolucci, engaging the audience in a one-day pursuit of a dream that arose from a prolific cinematic career spanning over fifty years.
The festival will spotlight a unique selection of four Bertolucci films in new 35mm prints as well as the exclusive Northern California Premiere of the newly-restored 3D version of the nine-time Academy Award-winning masterpiece, THE LAST EMPEROR, converted by the international visual effects company, Prime Focus World. Special guest(s) to be announced. For more information visit www.CinemaItaliaSF.com.
THE FILM SERIES
THE CONFORMIST (IL CONFORMISTA) (1970) – Bertolucci was nominated for an Academy Award for the screenplay he wrote for THE CONFORMIST, which was based on the novel by Alberto Moravia. The political drama was a commentary on fascism and starred Jean-Louis Trintignant as Marcello Clerici, a man who has become a prime example of an intellectual fascist. When he is sent to Paris to assassinate his former anti-fascist mentor, Clerici must come face to face with his tortured past. Screens at 12:30 p.m./111 mins.
THE SHELTERING SKY (IL TÉ NEL DESERTO) (1990) – Bertolucci received many accolades for his work with adaptation of Paul Bowles's novel including a Golden Globe nomination for Best Picture and a win for Best Original Score. THE SHELTERING SKY stars John Malkovich and Debra Winger as a sophisticated couple, married for ten years, who have come to the African desert in search of renewal and personal inspiration.Screens at 3:00 p.m./137 mins.
THE LAST EMPEROR (L'ULTIMO IMPERATORE) in 3D (1987) – In 2013, Bertolucci celebrated the 25th anniversary of the first international release of THE LAST EMPEROR. The celebration continues with an exclusive 3D screening during this film series. The film follows the life of Emperor Pu Yi, who took the throne at age three in 1908 before witnessing decades of cultural and political upheaval, within and without the walls of the Forbidden City. THE LAST EMPEROR is an intimate character study of one man reconciling personal responsibility and political legacy. The film won nine Academy Awards, including Best Picture and Best Director, three BAFTAs including Best Picture and four Golden Globes including Best Director, making it one of Bertolucci's most critically praised and lauded works. Screens at 6:00 p.m./163 mins.
LAST TANGO IN PARIS (ULTIMO TANGO A PARIGI) (1972) – Marlon Brando received an Academy Award nomination as Paul, a middle-aged American who comes to Paris when his estranged wife commits suicide. After meeting a young Frenchwoman by the name of Jeanne (Maria Schneider), Paul enters into a sadomasochistic, carnal relationship of outrageous sexual behavior with her. The combination of the explicit sexual content, Brando's performance, and Bertolucci's direction (for which he also received another Academy Award nomination), makes this an art house classic. Screens at 9:30 p.m./128 mins.
ABOUT BERNARDO BERTOLUCCI
The son of poet and film critic Attilio Bertolucci, Bernardo Bertolucci was born on March 16, 1940 in Parma. Surrounded by an atmosphere of comfort and intellectualism, Bertolucci began making films as a teenager, with two short 16 mm films about children, and started his film career as an assistant director to Pier Paolo Pasolini. In 1962, soon after Pasolini's ACCATTONE, he embarked on his own independent film study.
In his impressive body of work, Bertolucci has explored with insatiable curiosity the world around us and the ever evolving language of film, discovering and bringing to our attention what is most vital and beautiful. "I am looking for a spectator capable of abandoning himself to the unconscious work developed by the film and who is able to participate in it," Bertolucci once said.
TICKETS
Tickets for THE LAST EMPEROR 3D are $15.00 each, while the other films are $12.00 each. Discounts are available for students and seniors.
The special party "Inside the Forbidden City" in the Castro Theatre's mezzanine will take place following the screening of THE LAST EMPEROR featuring Italian and Chinese cuisines and drinks. Tickets are $15.00 each.
The All-Access Pass (admission to all films plus the party) is $50.00 each.
ADDITIONAL INFORMATION
BERTOLUCCI – A FILM SERIES is co-presented by Istituto Luce-Cinecittà, Rome and the Italian Cultural Institute of San Francisco. The exhibition is organized by: Program Director Amelia Antonucci, Cinema Italia San Francisco; Camilla Cormanni and Paola Ruggiero of Istituto Luce-Cinecittà. Presented in association with the Ministry of Culture of Italy, under the auspices of The Consul general of Italy in San Francisco.
For updates, news and more information, visit www.CinemaItaliaSF.com