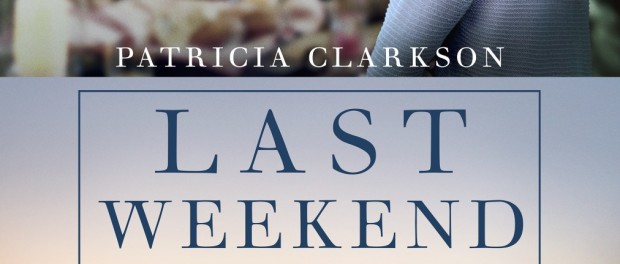 By Ron Merk
I had the unique opportunity to spend nearly a hour a few weeks ago with the co-director of the film, Tom Dolby, talking about life, love, cinema, and why we do what we do. What started as a discussion about the film, which I had seen before the meeting, turned into a really philosophical discussion of so many things, and much more of a personal interaction that I had expected.
Tom, who is the son of the legendary late Ray Dolby, seemed to me like just one of the guys. Easy going, warm, friendly, kind, thoughtful and intelligent. Did I mention he's also gay and married to his partner? No, I'm not saying anything about him that isn't already in print.
We talked about how the film was incubated, and it was clear that there were some strong autobiographical elements that had found their way into the script, about a domineering mother who wanted everything to be "just so" in her perfect vacation home. She invites her two sons, played by Zachery Booth and Joseph Cross to spend the weekend at the house with their partners. One son is gay and arrives with his "um, friend," to spend a long and exasperating drama filled weekend. The father is played the always solid and reliable Chris Mulkey who seems to be invisible because of the mother's share force of nature personality. The second brother and his female partner are given a proper adult bedroom in the house, while the gay couple get to sleep in the two son's boyhood bedrooms, each with its own single bed, and replete with toys from their childhood. Tom explained to me that the house the film was shot in was the house he grew up in. I asked him if the fact that the mother treated her son and his boyfriend in some ways as second class citizens, and he told me he never thought of it that way, but that it actually makes sense that the mother would infantilize the male/male relationship as "maybe it's just a phase kids go through."
Patricia Clarkson, as the mother, gives a tour-de-force, Oscar-worthy performance. She is perfect combination of dominating, insecure and a person who's reach a point in her life where she feels the need to let go of the past and its trappings, but has no idea what future she wants or what the following years have in store for her. She's always buying little things to improve the ambiance of the house, even on the same weekend when she decides she wants to sell the family vacation home. Yes, she's torn between the past and the future. She pays so much attention to the details of her life, in some ways she's missing the point of her life, something that she will hopefully come to understand as she moves forward after her difficult decision to let go of the family vacation home and all the bric-a-brac that fills its every surface, shelf, nook and cranny. Letting go of the children, as children, may also make it possible for her to re-cement her relationship with her husband, or maybe not.
But she is on the crossroads of a great adventure called life.
I asked Tom what it was like working with Patricia Clarkson, an actress with a long history of turning in great performances. Specifically I asked how he directed her and how she responded. He told me that she was great to work with, always had both questions and ideas about the character, and that sometimes he agreed and sometimes not. But, and this is a wonderful "but," Patricia always accepted Tom's choice as the final choices, and went with his direction without resistance. Clearly, this was a partnership of director and actor made in heaven. Every word that comes out of Clarkson's mouth is measured, perfect and without extraneous noise. She is a consummate actress, and we never see her acting. I believed at every moment that she was the mother, not the actress we all know. A truly astounding performance.
This is an impressive first directorial effort. Assured and straightforward storytelling is not something that we often see in first time directors. The only criticism I have of the choices that were made might be the music, which I found a bit cloying. But all in all, this is a decidedly strong directorial debut.
At our meeting, I asked Tom Dolby what was next. He told me he was working on a number of different projects, but that none of them was set to be the next film on his agenda. So, I guess we'll have to wait and see. I, for one, am waiting with great anticipation for his next film. He's a man to watch!
About the Director/Writer Tom Dolby
Tom Dolby is the author of the novels The Sixth Form, The Trouble Boy, and the Secret Society series, including the novel Secret Society and its sequel, The Trust. His writing has appeared in The New York Times, The Village Voice, and the San Francisco Chronicle. Tom was born in London and raised in San Francisco. He is a graduate of the Hotchkiss School and Yale University, where he received his BA in the history of art. Tom, his husband, Drew, and their two daughters currently divide their time between Los Angeles and Wainscott, New York. LAST WEEKEND is his directorial debut.