WITH A LITTLE HELP FROM OUR (FILMMAKING) FRIENDS
By Ron Merk
Sure, this might sound a bit like favoritism, because there are so many great films showing at this year's Mill Valley Film Festival. So, please check out their website and the amazing list of films this year.
But as a filmmaker, with many friends who are filmmakers, I feel a responsibility to support filmmakers I know personally. A couple of my close friends have films that will premiere at Mill Valley, and I just want everyone who reads my column to know about them. Like all film projects, they have taken enormous dedication, patience and resources to get across the finish line. I just want to say how much I am inspired by other filmmakers who get their films made and into meaningful distribution. So, please make a special point to see these films.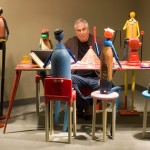 Plastic Man: The Artful Life of Jerry Ross Barrish
Jerry Ross Barrish's tale is one of metamorphoses: First an activist bail bondsman in 1960s San Francisco, then an indie filmmaker, he now shapes society's detritus into figures alive with feeling. "Don't perish in jail – Call Barrish for bail!" was a mantra for the student activists and civil rights protesters whose release would be secured by the successful young bondsman-with-a-conscience-he also earned distinction for his film works – but his life would change dramatically while walking on a beach. Seeing images in the plastic that had washed up, he began collecting and fashioning hundreds of sculptures from it, leading critics to hail Barrish as a junk-artist magician. His story-teeming with prizefighters, gangsters, and other larger-than-life characters ranging from Willie Brown to Wim Wenders – is captured in this brilliantly photographed documentary. Plastic Man probes success, 20th-century art, dyslexia, and the struggle to find oneself through the lens of Barrish's own, Jewish-working-class past, and ends with a monumental art commission. Produced by Janis Plotkin. Directed by William Farley.
WORLD PREMIERE at the Mill Valley Film Festival.
Screenings:
Sequoia 1 -Sun, Oct 5 2:30 PM
Rafael 2 – Wed, Oct 8 5:30 PM
For tickets http://tickets.cafilm.org/websales/pages/info.aspx?evtinfo=89169~07e85ca3-74b6-4863-ac45-3c9d86723cd5&epguid=ef7c23fe-7cbc-417f-90cf-d7284d3566d0&.
Racing to Zero
For two decades, San Francisco's Department of the Environment has been working toward the goal of zero waste and now recycles, composts, and reuses a whopping 80 percent of its garbage – but the race to eradicate trash continues, and this rousing film exhorts us to join in. Follow along as the city's food scraps are collected and transported to Sonoma County farms, where they are composted into the rich soil that grows the crops that feed us all. Find out how glass bottle recycling stays local and forms another closed-loop cycle by addressing garbage at its source. Enthusiastic zero-waste experts show how far we've come in wisely managing our resources, from medications and electronics to clothing and building materials. Even turning rubbish into art, these innovators zero in on new possibilities for greater sustainability. Produced by Diana Fuller. Directed by Christopher Beaver.
WORLD PREMIERE at The Mill Valley Film Festival.
Screening at: Rafael 2 – Sat, Oct 4 2:00 PM
Throckmorton Theatre – Mon, Oct 6 7:30 PM
Rafael 2 – Wed, Oct I 2:30 PM
For tickets http://tickets.cafilm.org/websales/pages/info.aspx?evtinfo=89171~07e85ca3-74b6-4863-ac45-3c9d86723cd5&epguid=ef7c23fe-7cbc-417f-90cf-d7284d3566d0&.