Silent Autumn
It's Nothing to Keep Quiet About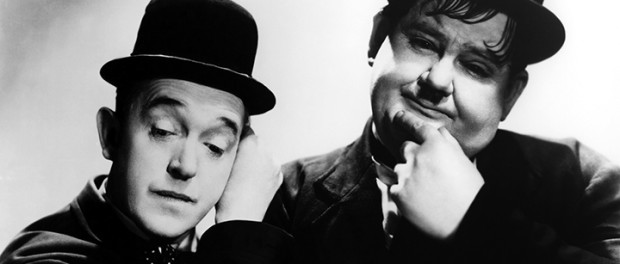 By Ron Merk
If you love movies, then it's pretty much a good bet that you love silent movies, too. After all, it's where the movies began more than 100 years ago, without over-amped surround sound, and the fury of more digital effects than the brain can possibly absorb.
Many argue that silent cinema was the purest of cinema. It relied totally on the visual and the actors to tell complicated stories without dialog (okay, title cards did provide some dialog) , but other than the orchestra or organ or piano playing live in the theater along with the film, silent films were able to communicate completely on an intellectual and emotional level. Again, some say, better than today's $300 million dollar effects movies.
But as someone else once said, "everything is a matter of taste." My response to that is everything is a matter of experience, just like tasting wine or trying a new menu item at your favorite restaurant.
If you haven't ever attended a silent movie, properly presented and they are by The San Francisco Silent Film Festival, and in the kind of theater where silent films were shown, our own Castro Theater, then you've missed an amazing experience, and you need to run, don't walk, to your computer and snatch up a pass for the whole day, or just one or two films. You will NOT be disappointed, I assume you.
All films will be accompanied live in the theater by some of the best musicians in the world.
Read more about The San Francisco Silent Film Festival at http://www.silentfilm.org/. They are a great organization doing important work in film preservation and presentation.
Get your tickets for Silent Autumn at http://www.silentfilm.org/festival/silent-autumn-schedule.
Please don't wait. It's just two days away on Saturday, September 20th. Don't be disappointed. These shows sell out very fast.
If you've never seen Rudolph Valentino, Laurel and Hardy, Buster Keaton or the great German expressionist film, The Cabinet of Dr. Caligari on the big screen before, be prepared to be thrilled by what the actors and directors could do without dialog, without fancy computer effects, and without surround sound. Be ready to be surrounded by great music played live in the theater, and a responsive audience of true film lovers. True art transcends time.