75 Years Old and Still Kicking Up Her Heels
Mamele (1938)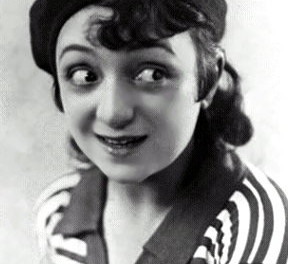 By Ron Merk
What can you say about Molly Picon that has not already been said? This diminutive performer is truly a force of nature. She is like a hurricane in this film, moving so fast one could get a stiff neck, but with such grace, you can get past the pain. If that isn't a perfect description of her power, I can't think of a better one. At 40, playing much younger and getting away with it, she charms us and works her way quickly into our hearts in the touching portrayal of an overlooked and under-appreciated family member who makes sure everyone's needs are taken care of, except her own. When love walks into her life, she finally takes a breath, and understands that she has needs, too, leaving her selfish family and lazy father behind to find joy with the violinist and his parents at a seaside resort. But the tug of loyalty and duty pull on her, and she has to decide whether or not to return to the family home. I won't give away the ending, because it's one of those things that each view needs to discover. I will say this, it's a real delight.
Filmmaker Joseph Green, born in Poland, but who emigrated to the USA in the 1920s, took his main cast of mostly American Yiddish theater actors to film this movie in Warsaw, mostly in a studio, but also on a few locations, at a time between the wars when Jewish life was unhampered by the terrible things to come with the Nazis. It's a unique look (and sound) of Yiddish language films, of which only about 100 were made during this short window of opportunity. Of course, those of us who love Hollywood movies are acquainted with many actors who got their start in the Yiddish theater. It was a fertile place of creative energy, about which the general public knows very little.
Mamele's technical credits are all top notch in this restored version of the film, done by the National Center for Jewish Film. Many of the Yiddish films were lost or abandoned because the demand for them diminished greatly with the elimination of their main audience by the Holocaust. Many fell into bad condition. The negatives for only a few have survived, but year after year, little snippets are discovered in diverse locations, and the NCJF keeps adding to the quality of their restorations based on finding new and better source materials. I was particularly impressed and touched by the songs that are sung in the films, of which there are a precious few, but each one a really beautiful look into a character's heart.
The supporting cast in the film is also top notch, with lots of theatricality and fun in their performances. But it's Molly Picon who holds the film together, the "mamele" of the movie and the story. She is truly a force of nature, a whirlwind in a thimble, and a joy to watch, even 75 years after this film was made.
The film is available on DVD, and can be purchased from the National Center for Jewish Film. It's a great way to experience the film, and at the same time, contribute to the ongoing work of the NCJF to restore more films. Their web address is www.jewishfilm.org
Synopsis (thanks to the National Center for Jewish Film)
Mamele belongs to Molly Picon, "Queen of the Yiddish Musical," who shines as Mamele (little mother), the dutiful daughter keeping her family intact after the death of their mother. She's so busy cooking, cleaning, and matchmaking for her brothers and sisters that she has little time for herself, until she discovers the violinist across the courtyard!
Following their success with Yiddle with his Fiddle, Director Joseph Green and leading lady Molly Picon re-teamed for Mamele, which like Yiddle was shot in Poland. Set in Lodz, this musical comedy drama featuring Picon's trademark song Abi Gezunt, embraces the diverse gamut of interwar Jewish life in Poland, with its nogoodniks and unemployed, nightclubs and gangsters, and religious Jews celebrating Succoth.