57TH SAN FRANCISCO INTERNATIONAL FILM FESTIVAL
COMPLETE PROGRAM ANNOUNCED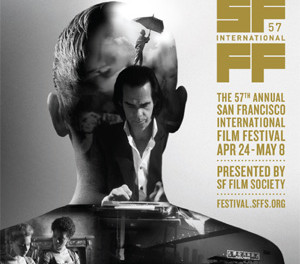 SFIFF57 Runs April 24 – May 8
The San Francisco Film Society announced the complete schedule of films and events that will make up the 57th San Francisco International Film Festival, running April 24 – May 8 at Sundance Kabuki Cinemas, New People Cinema and the Castro Theatre in San Francisco and the Pacific Film Archive in Berkeley.
Browse the full public program info at festival.sffs.org.
SFIFF 2014 by the Numbers:
168 Films
74 Narrative Features
29 Documentary Features
65 Shorts
56 Countries Represented
40 Languages
3 World Premieres
5 North American Premieres
5 U.S. Premieres
45 Women Directors
200 Filmmakers and Industry Guests Expected
Pixar's John Lasseter will be the recipient of the George Gund III Craft of Cinema Award, given to a worthy member of the filmmaking community for their outstanding and unique contributions to the art of cinema. Lasseter will be presented with the award at Film Society Awards Night, May 1.
Stephen Gaghan will be honored with the 2014 Kanbar Award for excellence in screenwriting, and the Festival will screen his acclaimed film Syriana on May 3.
Film historian and prolific author David Thomson will receive the Mel Novikoff Award at SFIFF57, which acknowledges an individual or institution whose work has enhanced the film-going public's knowledge and appreciation of world cinema. Thomson has selected Preston Sturges' The Lady Eve to screen as part of his tribute on May 4, which will also consist of an onstage conversation with author Geoff Dyer.
The Golden Gate Persistence of Vision Award will be given to pioneering filmmaker and installation artist Isaac Julien, with a tribute program that will include a screening of his recent work Ten Thousand Waves on April 27. The POV Award each year honors the achievement of a filmmaker whose main body of work is outside the realm of narrative feature filmmaking; crafting documentaries, short films, television, animated, experimental or multi-platform work.
The SFIFF57 lineup features an unprecedented number of films supported by the San Francisco Film Society's Filmmaker360 program, including Kat Candler's Hellion (SFFS/KRF grant winner: $70,000 for postproduction), Sara Colangelo's Little Accidents (SFFS/KRF grant winner: $50,000 for postproduction), Josef Wladyka's Manos Sucias (two-time SFFS/KRF grant winner: $45,000 for production, $90,000 for postproduction), Gillian Robespierre's Obvious Child (Off the Page screenwriting workshop participant), Jesse Moss' The Overnighters (SFFS project development program) and Michael Tully's Ping Pong Summer (SFFS/KRF grant winner: $50,000 for postproduction).
57th San Francisco International Film Festival
The 57th San Francisco International Film Festival runs April 24 – May 8 at the Sundance Kabuki Cinemas, Castro Theatre and New People Cinema in San Francisco and the Pacific Film Archive in Berkeley. Held each spring for 15 days, the International is an extraordinary showcase of cinematic discovery and innovation in one of the country's most beautiful cities, featuring 200 films and live events, 14 juried awards and nearly $40,000 in cash prizes, upwards of 100 participating filmmaker guests and diverse and engaged audiences with more than 65,000 in attendance.
San Francisco Film Society
Building on a legacy of more than 50 years of bringing the best in world cinema to the Bay Area, the San Francisco Film Society is a national leader in exhibition, education and filmmaker services. SFFS is headed by Executive Director Noah Cowan, with programmatic leadership by Director of Programming Rachel Rosen, Director of Education Joanne Parsont and Director of Filmmaker360 Michele Turnure-Salleo.
The Film Society presents more than 100 days of exhibition each year, reaching a total audience of more than 100,000 people. Its acclaimed education program introduces international, independent and documentary cinema and media literacy to more than 10,000 teachers and students. Through Filmmaker360, the Film Society's filmmaker services program, essential creative and business services, and funding totaling millions of dollars are provided to deserving filmmakers at all stages of their careers.
The Film Society seeks to elevate all aspects of film culture, offering a wide range of activities that engage emotions, inspire action, change perceptions and advance knowledge. A 501(c)3 nonprofit corporation, it is largely donor and member supported. Membership provides access to discounts, grants and residencies, private events and a wealth of other benefits.
For more information visit sffs.org