BUS STOP
A Classic Film Review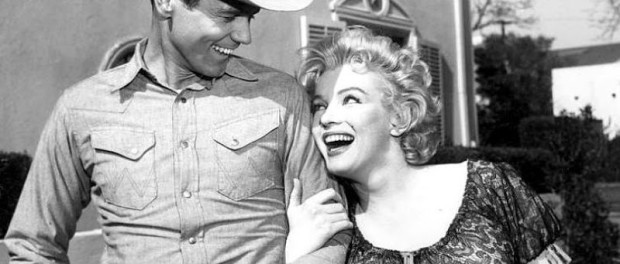 By Ron Merk
I had a chance to see "Bus Stop" at the tribute to actor Don Murray at the Roxie Theater in San Francisco last evening, and I have to say it's simply one of the great films of American cinema. Based on the William Inge play, and directed by theater and film director Joshua Logan, the film is the debut of actor Don Murray on the screen. I had never seen the film before, except for a few clips, and was overwhelmed by the fact that nearly 60 years after it was made, the film has the same power as the day it first saw the light of a CinemaScope screen back in 1956. There's a reason why we call a film a classic. Despite the time that has passed since it was made, a classic film still have the ability to move an audience with its story, characters, direction, writing and production qualities.
Don Murray's performance is a revelation of what a stage actor can do on film, taking the best of both media and wrapping them up in what I would call a truly fearless performance. Big and intimate at the same time. Bravado and vulnerability perfectly blended.
Murray really had his work cut out for him, since his co-star in the film was mega-movie-star Marilyn Monroe, at the top of her career, and the most famous actress in the world at the time. But Murray has no problem bringing his character, Beau to life, side by side with Marilyn's character, Cherie, a floozy "chantoozy" working in a sleazy bar in Phoenix, Arizona called The Blue Dragon. World-weary and soul-weary, but relentlessly and blindly working her way toward the impossible dream of a trip to Los Angeles where she hopes to be discovered at Hollywood and Vine, Cherie's plans collide with those of a naïve, crazy cowboy who falls in love with her at first sight, and who embarks on a plan to lasso Cherie like a steer on his remote cattle ranch, and make her his wife. "Horses don't like to be broken, but we do it…steers don't like to be roped, but that doesn't stop us…." I'm paraphrasing Beau's ideas about how to find and get a woman.
Murray stands side by side with Marilyn and lights up the screen as brightly as she does. Much of the time he stands a bit taller than her. He was and is a true movie star, bringing a unique acting style to the screen not seen since James Dean came on the scene. It's a controlled and occasionally wild performance, the kind of thing only possible by a well-trained theater actor being let loose for the first time in front of 20th Century Fox's CinemaScope cameras, at a rough and tumble rodeo, where Don's character "finds his angel" – Monroe as Cherie, and nothing will dissuade him from his mission to make her his wife, not even reality.
The film's script by George Axelrod and William Inge, based on two of Inge's plays, is perfect. Not an extra syllable or scene, it just zooms along the highway of life to give us a unique set of characters and they face life's (and our own) struggles to find love, contentment and satisfaction. The supporting cast which includes the always reliable Arthur O'Connell as well as Betty Field, Eileen Heckart, Robert Bray and Hope Lange is well chosen and each one is superb in their parts. It's been said by many that casting is 90% of the work of making a film. There are no small roles in the film. Every character is there to illuminate the story of these two hapless lovers and to give depth to the story, the life and times of the characters, and ultimately to entertain us with their faults, quirks and their warm hearts.
What the film gives the audience that most new films do not– is satisfaction. As I was watching the film I kept thinking, "This is the way movies should be, proceeding at a nice pace, and just telling a wonderful story." The film is elegant in its simplicity and directness, the strong and capable hands of director Joshua Logan steering this bus ride to a place where we all feel part of the journey, and where we recognize either people we know or ourselves. Nearly 60 years after the film was made, Bus Stop seems fresh and new, and it continues to touch and illuminate us.
Don Murray, now 84 but looking much younger, was present at the screening, which was preceded by "Advise and Consent," another film in which he gives a brilliant performance, and he talked much about working with Marilyn Monroe and how difficult she could be. But he made it clear that she was not a prima donna, but deeply insecure and sad. He talked about how he helped her hit her marks for the camera by holding her by the waist and making sure she stayed in camera range and in focus. It must have been hard work for a first-time film performer, but he never breaks a sweat in front of those hot CinemaScope lights, and in many ways, he steals the film completely from Marilyn, not by design by but the sheer power of his performance.
I had a chance to talk privately with Murray after the screening and he's a warm, intelligent and decent guy, something that shows in all of his six decades of film and stage work. He is one of those many actors in Hollywood who deserves a much bigger and better reputation that perhaps he has, and who needs to be recognized by the Academy for his amazing body of work. It was a pleasure meeting him in person, and watching his many personas on the big screen. Don will soon be seen on the screen again, in a feature documentary now being shot by filmmaker Don Malcolm. I really hope it will help to remind Hollywood and the world what a true American original Don Murray is. Bravo, Don, for more than sixty years of bringing truth and incandescence to every character you've played.