A Special Weekend with Actor Don Murray
A Unique Chance to Discover His Work and See Him in Person
By Ron Merk
For those of you who were born in the last 25 years, the name Don Murray may not mean much to you. But in his prime, he was as big a star in Hollywood as Paul Newman, and made films with stars like Marilyn Monroe. Personal beliefs and choices, the winds of fate, as well as the byzantine ways of Hollywood, took him from this high pinnacle of fame to almost total obscurity.
This weekend, San Francisco film-goers have a unique opportunity to see much of Murray's body of work at the Roxie Theater. Murray, now 84, will be present at a number of the screenings, for a Q&A and personal interaction with the audience.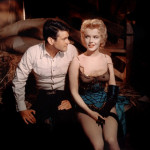 The three-day event, organized by local programmer, Elliot Lavine, begins today, July 11th. This is rare chance to meet an actor from the golden days of Hollywood, and to hear from him why all that glitters may not be gold. It will be an amazing insight into the system and fame, and how someone can be a big star one day and invisible the next.
Some rare Don Murray films will be screened, including many not seen on the big screen for several decades, including one from his personal collection. Audiences will also get a chance to see clips from a new documentary about Murray, "Unsung Hero," which is now in production.
Here's the complete line-up of films, with show times:
FRIDAY, JULY 11
From Unsung Hero "No Fix from the Past": A conversation between Don Murray & Foster Hirsch about A Hatful of Rain (8 min)
A HATFUL OF RAIN (1957, 111 min.) 7:30 [35mm print—UCLA] Eva Marie Saint, Don Murray, Anthony Franciosa, Lloyd Nolan, Henry Silva, William Hickey, Gerald O'Laughlin; directed by Fred Zinnemann
From Unsung Hero "The Perfect Actors' Mini-Studio": The Bachelor Party (7 min.)
THE BACHELOR PARTY (1957, 86 min) 9:45 [35mm print] Don Murray, Patricia Smith, Jack Warden, E.G. Marshall, Carolyn Jones, Larry Blyden, Nancy Marchand; directed by Delbert Mann
Special late screening
SHAKE HANDS WITH THE DEVIL (1959, 111 min.) 11:30 [commercial DVD] James Cagney, Don Murray, Dana Wynter, Michael Redgrave, Glynis Johns, Cyril Cusack; directed by Michael Anderson
SATURDAY, JULY 12 (two separate shows)
Episode of THE OUTCASTS "The Long Ride" (1969, 50 min.) 12:00 [digital, best available] Don Murray, Otis Young, William Bassett, J. Pat O'Malley; directed by Robert Butler.
From Unsung Hero "Don Murray on Otis Young" (digital, 5 min.)
CALL ME BY MY RIGHTFUL NAME (1972, 90 min.) 1:00 [Don Murray private DVD] Don Murray, Otis Young, Catherine Crosby, Kent Smith, Edith Atwater; directed by Michael Shurtleff.
Don Murray in person interviewed by his sons Christopher and Michael
A MAN IS TEN FEET TALL (1955, 50 minutes) 3:30 [Don Murray private DVD] Sidney Poitier, Don Murray, Martin Balsam, Hilda Simms, Michael Strong; directed by Robert Mulligan.
SWEET LOVE, BITTER (1967, 92 minutes) 4:30 [commercial DVD] Don Murray, Dick Gregory, Diane Varsi, Robert Hooks; directed by Herbert Danska.
Interview with Don Murray, Dick Gregory and Robert Hooks (schedules permitting) to follow
From Unsung Hero "The Kid Burned His House Down!" (5 min.)
ENDLESS LOVE (1981, 120 min) 7:15 [your 35mm print???] Don Murray, Shirley Knight, Brooke Shields, Martin Hewett, James Spader; directed by Franco Zefferelli
Interview with Don Murray
From Unsung Hero "The Pacifist as Pugilist": Reflections and memories from Don Murray and his family (3 min.)
THE CONFESSIONS OF TOM HARRIS (1968-72, 94 min.) 10:15 [DVD from Schlossberg] Don Murray, Linda Evans, David Brian; dir. by John Derek and David Nelson
SUNDAY, JULY 13
POLICE STORY "The Big Walk" (1973, 51 min.) 12:00 [commercial DVD] Don Murray, Dorothy Provine, Lynda Day George, Noah Beery Jr., Larry Wilcox, Jeff Corey, John Kerr, Regis Toomey, Tom Hayden; directed by Robert Day
From Unsung Hero "The Making of a Deadly Hero" Conversations with Don Murray, Diahn Williams and Tom McGrath (3 min)
DEADLY HERO (1976, 100 min.) 1:00 [commercial DVD] Don Murray, Diahn Williams, James Earl Jones, Treat Williams, Conchata Ferrell; directed by Ivan Nagy.
From Unsung Hero "Song and Dance Man" Don Murray's 1970s return to New York City (8 min)
Interview with Don Murray by Foster Hirsch
THE HOODLUM PRIEST (1961, 109 min.) 3:00 [commercial DVD] Don Murray, Keir Dullea, Larry Gates, Cindi Wood; directed by Irvin Kershner.
From Unsung Hero "The Power of Positive Confusion" (digital, 6 min.)
ADVISE AND CONSENT (1962, 126 min) 6:30 [commercial DVD] Henry Fonda, Charles Laughton, Don Murray, Walter Pidgeon, Gene Tierney, Franchot Tone, Lew Ayres, Peter Lawford, George Grizzard, Inga Swenson, Burgess Meredith; dir. by Otto Preminger
Interview with Don Murray by Foster Hirsch [commercial DVD] From Unsung Hero "Don Murray on Marilyn Monroe" (digital, 6 min.)
BUS STOP (1956, 96 min.) 9:15
Marilyn Monroe, Don Murray, Arthur O'Connell, Hope Lange; directed by Joshua Logan
For more information:
The Roxie Theater
3117 16th Street
San Francisco, CA 94110
Tel 415-863-1087
http://www.roxie.com/ai1ec_event/special-weekend-don-murray/?instance_id=3910