"SHOW BOAT" KEEPS ON ROLLIN' ALONG
Theater Review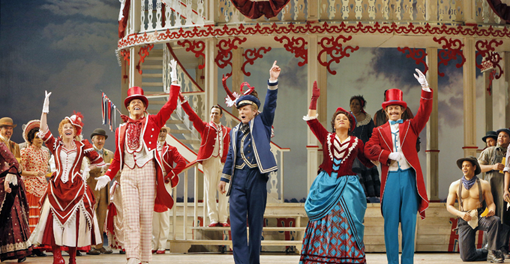 By Ron Merk and Ozgur Pamukcu
"Show Boat" is based on the Edna Ferber novel, and is a classic of the American musical stage. Last night's production of the show, part of the summer series of The San Francisco Opera, made it very clear why Show Boat has endured for so long. The show premiered on Broadway in 1927, and was produced by "impressario extraordinaire" Florenz Ziegfeld, famous of course for The Ziegfeld Follies. The San Francisco Opera Company has created a spectacular new production of the show, with great singers, dancers and an orchestra, all of whom never missed a note. In fact, they were all on the same page in such a way, it was simply an extraordinary evening in the theater. Two hours and 45 minutes went by like a southern breeze through a magnolia tree, as we listened to the music of Lorenz Hart and the lyrics and book of Oscar Hammerstein II (yes, of Rogers and Hammerstein, of course).
This somewhat old-fashioned story of a riverboat that travels from town to town on the Mississippi River, presenting a somewhat threadbare company of players in melodramas of a very amateur nature, and it's tale of star-crossed love, inter-racial marriage, and sorrow in the deep South could have been a turgid museum piece of theater. But in the hands of Lorenz and Hart, and in the loving hands of The San Francisco Opera Company, Show Boat just keep's on rollin' along, just like the words of the song, Old Man River, one of the numerous classic songs in the show.
Show Boat's cast is exemplary. Each and every one of them, and that means the chorus and dancers, too, gave a stand-out performance, and yet every move and note was blended so carefully, all we see is a great show. Floated high into the stratosphere by some of the best orchestral accompaniment I have ever heard in the theater, Show Boat's music keeps replaying in my head.
What's amazing about this version of Show Boat is that it's being done by an opera company, with the same amount of attention to detail and production values that would be given to an opera. A full orchestra. A cast much larger than would be possible in a normal theater run of the show. I counted nearly 80 actors with two choruses, one white and one black. Nothing like this could happen even on Broadway in New York. Massive sets and a sense of taste that only opera companies seem to have about everything on stage.
Walk, do not run, to see Show Boat, during its short run during the summer opera season at The San Francisco Opera. Only 7 more performances remain. Tickets are still available, but if last night's sold-out performance is any indication, then I do mean run to the box-office, or go on line and grab up those last remaining seats before they are gone. This is a once-in-a-lifetime experience that will lift you up, make you tap your feet, and hum the timeless music of Kern and Hammerstein.
For tickets and more information, visit www.sfopera.com.
Information from The San Francisco Opera Company website:
Music by Jerome Kern – Book and lyrics by Oscar Hammerstein II
Based on the novel Show Boat by Edna Ferber
Sung in English with English supertitles
Approximate running time: 2 hours, 45 minutes including one intermission
Pre-Opera Talks are free to ticket holders and take place in the main theater in the Orchestra section, 55 minutes prior to curtain.
Co-production with Lyric Opera of Chicago, Washington National Opera and Houston Grand Opera; presented through special arrangement with R & H Theatricals.
Production photos: Cory Weaver
Some Other reviews of the show:
A true classic of American musical theater, this tale of life on the Mississippi from the 1880s to the 1920s is both a poignant love story and a powerful reminder of the bitter legacy of racism. Director Francesca Zambello's grand-scale production is "a triumph—a stylish, fast-paced and colorful show that had the capacity audience on its feet, cheering loud and long" (Chicago Classical Review). The magnificent Jerome Kern-Oscar Hammerstein II score, which includes such classic songs as "Ol' Man River," "Can't Help Lovin' Dat Man," "Make Believe" and "You Are Love," will sound glorious "under the authoritative baton of music-theater maestro John DeMain" (Chicago Tribune). "No one should miss it" (Chicago Sun-Times).
According to General Director David Gockley, "Show Boat will be done in grand opera fashion in the way the creators conceived. The Opera House is—I believe—the appropriate venue for these great classic musicals that require full-voiced, 'legit' singing."
"One memorable song follows another, each an enduring thread in the fabric of American popular culture." –Chicago Tribune