Under the Lantern
A Director Emerges from the Shadows of Film History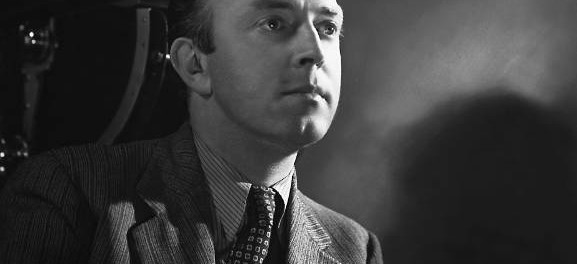 By Ron Merk
If you've never heard of director, Gerhard Lamprecht, then join the crowd. But thanks to the work of Martin Koerber and the Deutsche Kineathek, and this year's San Francisco Silent Film Festival, this director is no longer a secret kept by a select few who have had the honor to know his work.
Just a little background on Gerhard Lamprecht: He was born in 1897 and died in 1974 in Berlin. At the age of 16, he had his screenwriting debut. He studied Art History and Dramatics and took acting classes. He was also internationally well-known as a film historian and collector. Until 1970, he worked on the 11-volume complete catalog of German Silent Movies, which with over 5000 pages is considered the most authoritative work on silent films between the years 1903–1931. He was an avid film collector, too, and responsible for preserving many films from the silent era. He is credited by many as having been the cornerstone of the founding of the Deutche Kinemathek.
In a newly restored version of Lamprecht's 1928 film, "Under the Lantern," we see a master's hand at work. It's assured, and undeniable, steady and visionary all at the same time. Lamprecht's use of the camera is perfect. He moves it when necessary, going from long shot and dissolving to close-ups to reveal a characters inner thoughts. The lighting and design of the film reflect the expressionistic period of German cinema that flourished in the 1920s, but it is not heavy-handed nor does it draw attention to itself like some of the earlier films of the German silent cinema period. Expressionism is another tool, rather than being an overall style. By 1929 the language of cinema had matured, and it's very clear in this film, under the direction of Lamprecht. His main function as a director is to tell a story, a story that we've seen and heard many times, that of the fall of a good girl from grace, and her personal descent into hell at the hands of others.
The cast, headed by Lissy Arna as the ill-fated young woman Else, is excellent. Her father, who throws his daughter out of the house when she disobeys him, is played with a stern and cruel quality, by Gerhard Dammann. Mathias Wieman as Hans, Else's boyfriend and possible future husband, shows the audience the character's strength and weakness in a naturalistic way, very much a modern performance. I particularly liked watching Paul Heidemann as Hans' best friend and secret admirer of Else. He was nuanced, and we felt a great deal of empathy, even sympathy for his character due to the broad spectrum of emotions that he felt (and made us feel, too). Hubert von Meyerinck as the theatrical agent, perfectly coiffed and dressed, had a slimy elegance as he plotted to seduce and later betray Else.
The film, which was presented in a beautiful digital transfer, looked simply stunning with clean, crisp images, close to what 1928 audiences probably saw during the film's first release. Great restoration and preservation work by the team at the Deutsche Kinemathek.
The musical accompaniment, played live at the Castro Theatre, by the Donald Sosin Ensemble, perfectly underscored the action on the screen, lifting it up and carrying the film to the audience in a very emotional way, but without overstatement or exaggeration. The use of old phonograph records of German songs, interspersed and mixed with the live score, was a unique addition to the overall sound that accompanied this wonderful film. I'm looking forward to seeing more of the Lamprecht films, (which I understand have been restored) at a future San Francisco Silent Film Festival.