The Ready Rig
You Need All the Support You Can Get When Making Independent Films!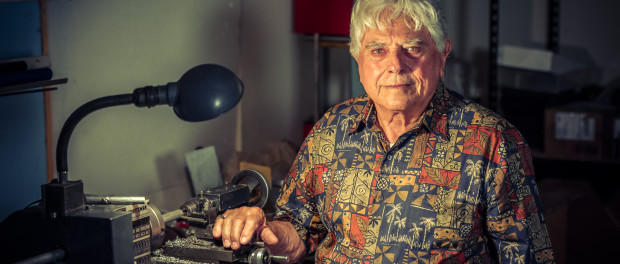 By Ron Merk
Yes, yes, I know. I've written a couple of pieces for Indieplex about The Ready Rig. But I can't help saying something more about it after seeing the latest demo from Alba Camera Support, the makers of the unit. The flexibility of the Ready Rig, and its ability to provide really difficult and unique shots to your production is practically unlimited. So, I'd like to direct your attention to checking it out again, or for the first time if you haven't seen what this unique piece of equipment can do for you.
My longtime friend and neighbor when I lived in Topanga Canyon in Southern California, was Mario Di Leo. If that name doesn't ring an immediate bell for you, check out his profile on IMDB. Mario has an impressive list of credits, including feature films and network TV shows, and an enormous amount of experience as a director and director of photography. His career began in his native Italy, working with such greats as Roberto Rossellini and G.W. Pabst. His original education was as a civil engineer, but the siren call of cinema beckoned and he could not resist.
It is not surprising that his background in engineering and his experience in filmmaking would lead him to his present activity, creating tools for filmmakers that make work easy, innovative and allow the kind of creativity that is needed to compete in the modern world of filmmaking.
This is best demonstrated by Mario's creation of The Ready Rig, a camera support device. Yes, I know there are dozens of shoulder mounts and other camera support units on the market, but none that offer the versatility, strength, and price of the Ready Rig.
Take a look at the latest demo video, and you'll see what amazing things can be accomplished with this unique piece of equipment. In minutes, The Ready Rig can deliver shots that previously would take cranes, dollies, many more crew members, and lots of set up time and cost.
Res ipse loquitur. That's Latin for "the thing speaks for itself." And if a picture is worth a thousand words… well, I think you get the point.
Mario has been kind enough to give us a unit to demo in San Francisco. If you're interested in checking it out, just contact me. My e-mail is ron@indieplex.org.
If you want to buy the unit, contact albacamerasupport.com or one of their authorized dealers.
I know you won't be disappointed with this equipment, and in fact, I know you'll be thrilled with all the possibilities The Ready Rig can open up for you and your production. Check it out, and tell Mario that Ron Merk sent you.