Serge Bromberg's Treasure Trove
At The San Francisco Silent Film Festival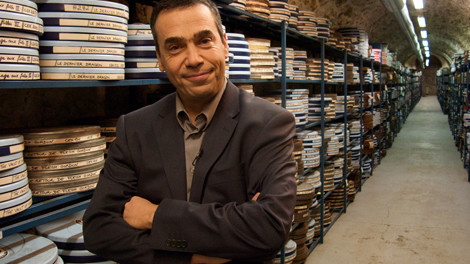 By Ron Merk
Each time that French film collector, archivist, and raconteur extraordinaire Serge Bromberg comes to the San Francisco Silent Film Festival, it is always an amazing experience for audiences at the Castro Theatre. Not only does Serge show up with some of the latest films he has discovered or restored, but he presents them in an amazing on stage performance, and almost always accompanies the films with his perfect piano styling. He is a true showman, in every sense of the word. I don't think I've ever seen anyone on stage at a film festival who captivates the audience in the same way that Serge is able to do. He is a true Gallic treasure, landed on our shores, and is not to be missed anytime he returns.
His program this year was no exception. Following in the steps of his countryman, Georges Melies, he did a magic trick that astounded the audience, with the assistance of Celine Ruvio of the Cinemtheque Francaise. He talked a little about the fact that time shows no mercy on film, and especially nitrate film, which is an unstable compound, and highly flammable. With a film can firmly in Celine's hand, Serge showed us how safety film does not burn with lit with a flame. Then, he took out just a few frames of nitrate film and demonstrated the difference. The strip of nitrate created an enormous flame, as Serge hurriedly dropped it in the can to avoid immolation, himself. The audience just went wild with excitement. I guess everyone loves a fire, but sadly so much of our silent film history, and quite a number of cinemas, has gone up in flames because of the volatility of nitrate film.
This was a wonderful lead-in to Serge's show, and in just a minute or so of this demonstration showed us how easy it was for so much of our silent film heritage to be missing and considered lost… well, until Serge and people like him, occasionally rescue a jewel from the flames of time.
The highlight of Serge's presentation was a wonderful recent discovery, of footage from the Buster Keaton film, "The Blacksmith," which no one in the world thought could possibly exist. Serge had been contact by fellow film historian and collector Fernando Peña of Buenos Aires (the man who discovered the complete version of Fritz Lang's Metropolis!) who had made a magnificent discovery in a 9.5mm print – a lost version of Buster Keaton's "The Blacksmith." Peña reached out to Bromberg about restoring the title and when Bromberg went looking for a 35mm copy that would match the discovered version, he found additional footage, believe it or not, in his own collection at the Cinematheque Francaise. Audiences were thrilled to see this complete version of the film, with extensive additional exterior scenes, as Buster Keaton made us gasp and laugh as he did many of his signature stunts and near collisions with moving objects.
While it's not likely that a missing film or reel might be sitting right under the noses of film archivists in their own vaults, this was truly a wonderful story, with a joyful ending. One film historian discovering a 9.5mm print in Argentina that lead to the re-discovery of 35mm material half way across the world in France.
Thanks to Peña (who was present at the screening, introduced to the audience to thunderous applause) and to Serge for bringing us this lost chapter from the career of Buster Keaton, and for reminding us that important films can still be found "in our own backyard."
At the end of the show, Serge asked the audience if they had three more minutes for another story, to which everyone responded with enthusiasm. He then regaled us with yet another example of finding a lost film, this time, on eBay. Serge explained that he finds many things on eBay, and recently there was an auction of a 35mm fragment of film, which his "film detective's eyes" recognized. He bid and won the small roll of film, discovering a lost film by French film pioneer and the world's first animator, Emile Cohl. The film was then run, and we all were captivated by the fantasmagorical animation of Cohl, and thrilled that yet another piece of cinema history had been restored to its rightful place, up on the big screen of the Castro Theatre.
Thank you, Serge, for all that you do for cinema, and all the wonderful things that you bring all of us who love film.