The San Francisco Silent Film Festival
Don't Miss It!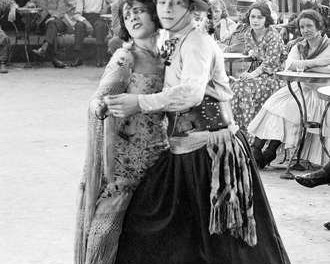 By Ron Merk
Once a year, a great team of people headed up by Stacey Wisnia and Anita Monga, dedicated to preserving the art of the silent film, puts together an amazing program of films and presents them under ideal conditions at San Francisco last remaining movie palace, The Castro Theatre. Projected in many cases from rare 35mm prints or in digital form using the best originals as source material, and then accompanied by some of the finest musicians and groups who specialize in performing with silent films, many of these films have not been seen this way since their original release during the heyday of silent films, nearly a century ago.
The festival begins on May 28th with a screening of the Rudolph Valentino film, "The Four Horsemen of the Apocalypse." Everyone has seen the clip of Valentino doing the tango, dressed as a gaucho. Now's your chance to see the rest of this amazing film in rare big screen presentation.
The festival runs through June 1. It's only four days, but they are four days filled with the kind of once-in-a-lifetime experiences that film lovers cannot afford to miss. Buy a ticket for the whole festival, and a couple of big bags of popcorn, and just live at the Castro for a long weekend designed for movie lovers.
For the complete program, and to purchase tickets, just visit the website of The San Francisco Silent Film Festival.