NEWS from SF SILENT FILM FESTIVAL
May 22, 2014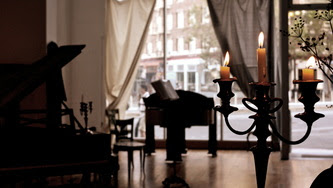 TREASURES, EXTRAS, and ODDMENTS…
The French have a word for a person who can tell a good story: Raconteur. We can pile on the French adjectives — raconteur par excellence, nonpareil — when it comes to our special guest, Serge Bromberg who will open up his chest of cinematic rarities for us on Saturday, May 31 at noon!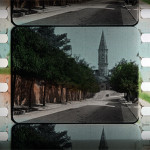 SERGE BROMBERG'S TREASURE TROVE features the recently discovered alternative version of Buster Keaton's THE BLACKSMITH, the World Premiere of the complete two-reel version of Roscoe Arcbuckle's THE WAITER'S BALL, a work-in-progress look at NIGHT IN THE SHOW with Charlie Chaplin, plus other surprises!
THE RETURN OF THE ORPHANS!
Newsreels, outtakes, amateur films, test reels, kinescopes, trailers, promotional and experimental films, early silent narratives, as well as random fragments with no discernable origin. These are examples of what film archivists now refer to as "orphans" – any film abandoned by its legal owner or whose copyright status cannot be determined or that has suffered neglect and needs to be adopted in order to be saved, studied, and screened. The San Francisco Silent Film Festival joins once again with Dan Streible, organizer of the biennial Orphan Film Symposium and a speaker at the Friday morning program Amazing Tales of the Archives, to present a sampling of our recently rescued cinema heritage.
The Orphans include: Italian Scenic screening before SONG OF THE FISHERMEN (Friday, 1:00 pm) Stencil-colored fragments of travelogues shot in the Umbria region of Italy Josephine Baker Visits Volendam screening before MIDNIGHT MADNESS (Friday, 3:00 pm) Entertainer Josephine Baker tries to dance in traditional Dutch clogs and otherwise goofs around on a visit to northwestern Holland. Niemeyer Pijptabak screening before COSMIC VOYAGE (Friday, 10:00 pm) A live-action hand creates a knockoff of animation pioneer Max Fleischer's Koko the Clown, who introduces a cheeky cat named Felix, who then inks a series of smokers representing eight professions, all in the service of selling Niemeyer brand Red Star tobacco to movie audiences in 1923. Fragment of Market Street, after the fire (1906) screening before THE GOOD BAD MAN (Saturday, 10:00 am) Trailer for Vsevolod Pudovkin's Mother screening before THE EXTRAORDINARY ADVENTURES OF MR. WEST IN THE LAND OF THE BOLSHEVIKS (Saturday, 10:00 pm) "The movie of all movies!" Recently discovered animation trailer made by Austrian film pioneer Hans-Otto Löwenstein to promote the opening of the Soviet filmmaker's revolutionary adaptaton of the 1906 Maxim Gorky novel.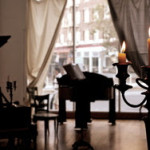 THE KULESHOV EFFECT at SALLE PIANO MAY 27 at 7:00pm
Join us at Salle Piano at 1632 Market Street where we will stage our own version of the Kuleshov Effect with music! Meet the Matti Bye Ensemble in this lovely old-world setting and discover what goes into creating music for film.