Film Restoration and Preservation in the Digital Age
An Interview with Robert Byrne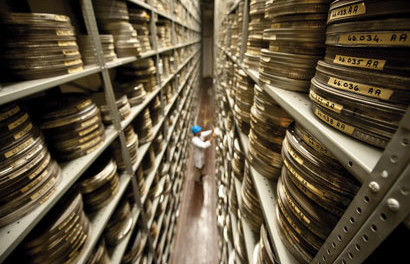 By Ron Merk
Rob Byrne and I recently met in my office in Civic Center to "just chat" and get to know each other better and to see how we could work together on future programs at the festival. I've been a supporter of the San Francisco Silent Film Festival for many years, and greatly admire their ability to bring silent films to life in the modern world of fast-paced film making and audiences that often have not been exposed to the amazing pantheon of the silent film and its very luminous stars.
I worked with the festival in preserving a wonderful color home movie of film comic Stan Laurel, which was presented at last year's festival in a program called The Kings of Silent Comedy, and was just thrilled at the reaction to the audience as they watched the beloved Stan Laurel playing at home, and making his signature faces for the camera.
One of the future projects that Rob and I discussed was to create a segment on famous people in home movies as part of the festival's Tales from the Archives program next year. This show focuses on the work of film archivists and historians in locating, restoring and preserving different films or surviving fragments, often orphan works that would not survive otherwise. I have been working on a major initiative to save more than 400 collections of historically and culturally significant home movies, among which was discovered exciting and rare home movies of famous people from the world of entertainment and politics, including 38 minutes of never-before-seen home movies of President John F. Kennedy, Spencer Tracy, Paulette Goddard, Universal Studios back lot with Andy Devine, Astronaut John Glenn, and many more.
Read more about these projects at http://www.today.com/news/new-footage-reveals-glimpses-jfk-campaign-funeral-2D11601956 and http://www.sfgate.com/movies/article/S-F-film-producer-Ron-Merk-preserves-reel-history-5166215.php.
At the meeting, I asked Rob if he'd be willing to do an interview for Indieplex Online Magazine, which he graciously agreed to do.
Ron: How did you become associated with the San Francisco Silent Film Festival?
Rob: I became aware of and attended my first SFSFF back in 2000, when the festival was an annual one-day event. It was such a thrill that FINALLY it was possible, if only for one day a year, to see films from the silent era projected on the big screen with proper musical accompaniment. After attending again the following year I contacted the founders, Melissa Chittick and Stephen Salmons, in hopes of somehow getting involved with the magic they were creating.
Ron: How did your background in lead you to working on restoration and preservation of silent films?
Rob: I don't think that my technical background necessarily led me to restoration so much as it is simply a happy coincidence that my career-pivot into film archiving and preservation occurred coincidentally with the introduction of digital technology to film restoration. What I will call my first career began at NASA's Johnson Space Center in Houston, Texas working on flight control software for the Space Shuttle. In the late 1980s I moved to the Bay Area to work at IBM's Santa Teresa Lab before moving on management and executive positions elsewhere. Over the years I increasingly felt the pull of my passion of early cinema and my desire to leave some sort of modest legacy in the field of film preservation. By this time I had been on the Board of the SFSFF for a number of years, and finally decided in 2006 to move to the Netherlands supplement my computer science degree with a MA in Preservation and Presentation of the Moving Image from the University of Amsterdam.
Ron: What are the problems that are unique to restoring or preserving silent films, from both a photo-chemical and digital perspective?
Rob: I think the biggest challenge with restoring silent era material is actually finding the money to do the work. With the exception of the biggest titles, there is little or no income to be derived from preserving or restoring a film. This leaves the job to archives, individuals, and non-profit organizations whose goals serve a higher purpose than financial return.
Getting back to the original question, I think one major challenge in the realm of digital restoration is not so much technical as it is ethical and curatorial. The digital tools at our disposal today provide the capability to so completely alter the nature of the original work that it loses all relation to the original artifact. I have seen silent film "restorations" so stable and so over-processed that they look like they were shot with the latest RED 4K digital camera.
Another significant challenge with digital restoration is to defeat the inclination to leave it only in digital form and not print it back to film. To be truly preserved, a film must be restored back on to 35mm film. All of our restorations have used digital technology as an intermediate phase, but the final end product is always a new 35mm film negative and new exhibition prints. Not only is 35mm film is the gold standard for film presentation, particularly for silent era material with varying frame rates that digital projection cannot replicate, but a film is only truly preserved until there exists a new 35mm film negative, on modern polyester film stock, stored under proper archival conditions.
Note from Ron: There's a very thorough article about saving films on film at http://www.rsc.org/chemistryworld/Issues/2011/December/RerecordNotFadeAway.asp.
Ron: How many of our silent films are waiting to be preserved or restored and what is holding things up?
Rob: All it takes is money. Thousands of silent era films await the funds that will allow them to be properly preserved and/or restored. It seems such a great paradox that only an estimated 15% of the films created during the silent era films have survived and yet there are hundreds of films that could be addressed if only funding was available to do so. Every year there are victories that see formerly unavailable titles returned to the screen, but there is so much more that could be done.
Ron: The San Francisco Silent Film Festival was very much involved in several film restorations, on which you worked. Could you tell us a little about one or two, and talk about your specific work on them?
Rob: Last year we completed our first two restorations, Allan Dwan's THE HALF-BREED (1916) and Emory Johnson's THE LAST EDITION (1925) and later this month we will unveil THE GOOD BAD MAN (1916) which was restored in a three-way collaboration between SFSFF, the Cinematheque Francaise, and the Film Preservation Society.
For each of these effort I have taken the lead (though certainly not worked exclusively) to organize the project and budget, and then perform the restoration itself, including: researching the archaeology of the film, assembling the surviving materials, editing and reassembling the original continuity, titling, determining any original coloring that should be restored image restoration, and collaborating with the lab and our partner archives to supervise the final grading (color, brightness, contrast) and film-out back to 35mm negative and prints.
Read more about The Last Edition restoration at http://www.silentfilm.org/homepage/whats-new/the-last-edition and The Half Breed at http://www.silentfilm.org/archive/the-half-breed.
Ron: Why do you think that silent films are important and should be saved and screened?
Rob: Silent era films should be preserved for the same reason that literature, paintings, sculpture, and other artistic, cultural, and heritage objects should be preserved. In many respects motion pictures are the literature of the twentieth century. Not only are they entertaining, they are important cultural records that provide amazing insight into the world of almost a century ago. I don't think it's a stretch to say that King Vidor's THE CROWD (1928) stands as a worthy companion to Fitzgerald's masterpiece, The Great Gatsby, when it comes to understanding America in the late 1920s, and just as similarly how G.W. Pabst's THE JOYLESS STREET (1925) transports audiences to a depression era Vienna.
Ron: Talk a little about the Diamant system and what it can do to help with film preservation?
Rob: Diamant is a professional software package from HS-ART that provides the ability to restore (stabilize, remove dirt and scratches, etc.) motion picture materials that have been digitized. The way that Diamant fits into the restoration workflow is that once the research is complete and the original source materials identified, the film sources then go to a lab where are scanned at a very high resolution, typically either 2K or 4K. Scanning is an automated process whereby each frame of a film is individually photographed using a digital camera, with the end result being a huge number of sequentially numbered individual image files. For most films this can easily come to 150,000 or more individual images. These files are then ingested into Diamant which we use to perform the image restoration. Once the work with Diamant is complete, typically three or four months for a feature film, the updated files are exported and used as the basis for creating a new photochemical film negative.
Ron: How far should we take the use of digital technology to repair, clean, interpolate missing frames, etc., before we are "changing" a film?
Rob: By definition, the term "restoration" means to return something to a prior state. It is critical that digital tools (or analog techniques for that matter) are only used to remove damage that occurred after production of the film material that you are working with. Among other things, this means that we do not colorize, interpolate missing frames, or "improve" the film beyond how the film appeared when it was originally screened. This is particularly critical since we are working with original materials that will be preserved back to 35m negative. Over time, the original nitrate materials used as the basis of our restorations will deteriorate and all that will survive are the new preservation negatives that we have created. It is absolutely essential that these new preservation negatives, which will eventually be the only surviving physical document of the film, are not polluted by latter-day "enhancements."
Ron: Why should we make film copies of films that are preserved digitally? Why is the continued creation of film copies important?
Rob: It is a common misconception that once a film has been digitized it has been preserved. In fact, the exact opposite is the case. A properly stored 35mm film on modern polyester film stock has a life span that far exceeds 100 years. Images on film are not machine-encoded, they are human-readable, and will always be accessible using the most rudimentary technology. On other hand, digitally encoded images must be continually migrated as formats evolve and the hardware to access them becomes obsolete. To store motion pictures digitally is to doom them to an eternity of continual recoding and migration, and if the cycle ever stops the material is lost forever. Digital media is wonderfully convenient when it comes to providing access, but for long term preservation there is no substitute for film.
Ron: Are there any silent films that are missing that you'd personally like to discover?
Rob: Oh. there are dozens, the usual suspects of course, but I tend to think more of entire categories that are lost, of which very little has survived. Colleen Moore was one of the brightest stars of the 1920s very few of her features have survived. Japanese director Yasujiro Ozu began his career during the silent era, directing thirty-three features prior to his first sound film, but only thirteen of these survive in complete form. How amazing it would be to discover these materials and to return the work of these artists to the screen!
For more information about The San Francisco Silent Film Festival, please visit www.silentfilm.org.
Don't miss this year's great line-up of silent films at San Francisco's last remaining movie palace, The Castro Theatre for our 19th Annual San Francisco Silent Film Festival May 29 – June 1. TICKETS are now on sale for FESTIVAL 2014! The festival includes 17 wonderful silent-era features in preserved and restored prints, one program of extraordinary silent shorts and rarities, and the ever-popular (and free!) Amazing Tales from the Archives program. 19 programs in all, and you won't want to miss one! Did we me mention that all films are accompanied by live music!