Help Save a Great Video Collection
San Francisco's Greatest Video Store – Le Video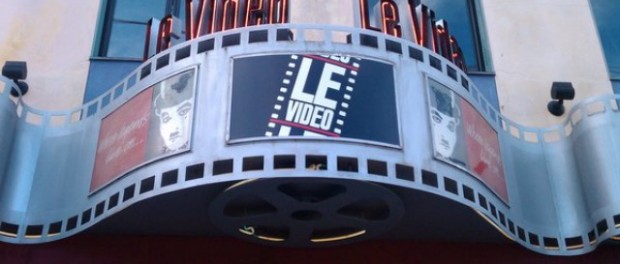 By Ron Merk
I don't often "pitch" fund-raisers in this column mostly because I know too many people, filmmakers and institutions that are beating the bushes for money, but sometimes something is so important I want to use the outreach of Indieplex to support a cause. This is one of those important issues.
Le Video is a San Francisco video store. It has the most amazing collection of videos in many formats, and it's in danger, like most "analog" video stores of becoming extinct. The managers have a great plan to keep it alive, and at the same time, create an amazing community space on the ground floor of their building for curated screenings.
Please go to their indiegogo campaign, and give whatever you can. I've just made a personal donation, so yes, I've put my money where my mouth is. Here's the link: http://www.indiegogo.com/projects/save-le-video-a-sf-film-institution
Even if you don't live in San Francisco and will never go to their store, it's important that you support the existence of such a store and keep those "library shelves" dust free and ready for access to anyone who walks in.
If you're looking for a rare, hard to find, or out of print video for any reason, this is one of the last, best resources to finding it.
I know that the Zeitgeist is digital, and digital downloads, but there is something amazing about holding that video case or cover in your hands, putting the media into your player, and just checking the cover notes before it plays. Yes, it's like reading a book or a magazine, and it's tactile and personal, something downloads cannot give you.
Maybe I'm beginning to sound like I was born a century ago, but not quite! I just think we need to treasure things from what may seem like the past, but if it's any better an explanation, I recently went to the Noir City Festival at San Francisco's Castro Theater, where some of the best film noir titles were unspooled (literally) from 35mm prints. It was a personal experience, knowing that film, with all it's imperfections, scratches, dirt and splices (sounds like a metaphor for the human condition?) was rushing through the gate.
Le Video is one of the last video stores standing in San Francisco, and it's collections is extraordinary. When you walk in, you feel like Dorothy opening the door of her sepia-toned world, and walking into a glorious Technicolor landscape.
Please help keep that door open. There's an amazing world of cinema just beyond that door at Le Video.
Le Video – Up Close and Personal
Not being content to just promote this important indiegogo campaign, and to remind everyone who loves film that they need to get involved, I contacted the store by phone and asked to speak to the person in charge so that I could ask the management some questions about why they think it's important to save Le Video. I received an immediate response from the store's buyer, John Taylor, who said he'd be happy to answer any questions I might have for Le Video. Below is the unedited response, which is so eloquent and clear, that I didn't change a comma.
RON: Are you the owner of Le Video?
JOHN: I am not the owner. Catherine Tchen is the owner. She started the business in 1980 after realizing she could not find classics of European cinema that she had grown up on in France. She started by renting Pal and Secam VHS transfers in her camera store.
RON: What made you get involved and do you feel you've gotten some personal satisfaction from what you've done?
JOHN: I started working at the store in 1999 while I was in college. I am now the store buyer, and have been since 2005. I think I can speak for both Catherine and myself in saying that we have both gained personal satisfaction from our involvement with the store.
RON: Why do you think it's important that there are brick and mortar video stores like Le Video?
JOHN: They provide a social experience that so far has not been replicated online. You can come into our store and have a conversation with a clerk; they can recommend titles based on this conversation… something an algorithm can't achieve. You can also run into like-minded individuals from your community. The staffs of independent video stores are a very knowledgeable bunch of people. No one is doing this to get rich; they do it because they love movies.
RON: What is it that Le Video offers that downloading, VOD and other such digital services do not provide?
JOHN: First we offer a far larger selection than any streaming service could provide, due to the rights issues involved in streaming. We have titles that are out of print, that are only available in Europe and even rare titles that have never been released on video. Secondly our product is of a higher quality. You can not get Blu-Ray full HD quality through any streaming service. Netflix maxes out below 10Mb where Blu-rays average in the low 30s. If you've spent a lot of money on a big new home theater system why would you want to stream your content through a painfully slow DSL connection? It won't be the same experience.
RON: What do you think is the is the difference between buying or renting a DVD or other recorded media, as opposed to getting programming via digital downloads?
JOHN: I suppose the main difference is choice. If you rely only on digital downloads you are limited to what the studios have negotiated with the service you are using. For example, Netflix lost a ton of titles due to contract renegotiations with Warner Brothers. Our store, on the other hand, has nearly 2000 Warner Archive titles for rent (none of which are on Netflix).
RON: What kinds of changes will you make to keep the doors open and Le Video a vital, thriving business?
JOHN: The goal of our online fundraiser is to raise enough funds so that we can successfully downsize our operation without actually removing any titles. We will have the same availability, just in a much smaller space on our second floor. We will then be able to rent out our ground floor to a tenant. We are hoping the new tenant will be local, community-oriented, independent and like-minded. If the campaign is successful and we can move upstairs, and the new tenant works out, I think Le Video will have a bright future!
RON: Where do you see Le video in one year, five years?
JOHN: In one year I think things might be similar to now. Skating by thanks to our die-hard regular customers. With the smaller space we will be able to keep going! In 5 years I believe Netflix will have completely discontinued their physical mail order business. I think there is a chance our business will see a resurgence when people realize there choices are being severely limited by only using streaming services. Also we are hoping that in a second phase that we can start doing some small scale mail order ourselves. If we can find a safe way to ship out rare titles I think this will open up a whole new customer base.
RON: How can people who believe in you get involved and help Le Video?
JOHN: We have started an Indiegogo campaign to raise funds to complete our store's transformation. http://igg.me/at/LeVideo/x/2582757
Local (Bay Area) folks can come in a rent! Get a movie…. or 10. You can keep Non-New-Releases for a week! I'm sure we've all experienced a favorite establishment going out of business and kicking ourselves for not doing something sooner. Don't wait until it is too late to help out.
Thanks so much to John Taylor, Le VideoStore Buyer, for participating in an Up Close and Personal Indieplex Online Magazine feature.