CAAMFEST 2014
The Center for Asian American Media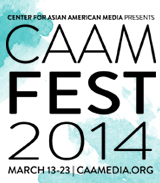 Festival March 13–23, 2014
San Francisco – Berkeley-Oakland
The Center for Asian American Media (CAAM) is a non-profit organization dedicated to presenting stories that convey the richness and diversity of Asian American experiences to the broadest audience possible. CAAM does this by funding, producing, distributing and exhibiting works in film, television and digital media.
Each year CAAM presents an broad array of films in its festival, online and in special events throughout the year.
This year, the festival will present programs in San Francisco, Berkeley and Oakland, giving audiences many opportunities to see unique looks at the Asian experience.
Complete Festival Schedule of Events and Venues: http://caamfest.com/2014/schedule/
Film Schedule: http://caamfest.com/2014/film/