Time Travel
Back in Time to The Edwardian Ball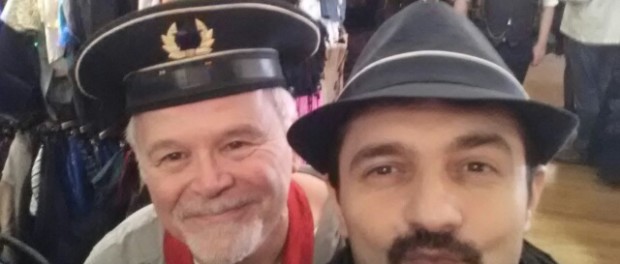 By Ron Merk
We can never truly understand how people lived, loved and thought a hundred years ago, but we can get a glimpse into their zeitgeist by attending events like The Edwardian Ball.
I had the unique opportunity to be transported, at least for an evening, back to Edwardian times, and for just a few hours, I had a sense of what it was like to live in London a century ago.
The Edwardian Ball And Edwardian World's Faire, which took place at the Regency Ballroom in San Francisco on January 17th and 18th, provided me with a unique look into the mindset, mores and of course, corsetry of this guilded age of suppression and excess. Displays of Edwardian artifacts, a complete bazaar of merchandise running the gamut from the sublime to the bizarre, attendees in costume (and in character) and a never-ending series of entertainment on the ballroom floor and stage, all added up to a trip in H.G. Wells proverbial time machine.
I even made a somewhat small attempt to go in costume, myself, donning a some of the acoutrement of a British sailor of the time. While it made me feel a tad silly… maybe I've just outgrown Halloween at my age, being in costume certainly made all the audience and attendees look and and even feel like they were living in Edwardian times. Hardly a soul showed up at the event NOT in costume, and this simply added to the sense of "being there."
If you missed the event, there's another chance to travel back in time, by attending a reprise of the event on February 8, 2014, at The Fonda Theater in Los Angeles.
Ticket information and purchase: http://edwardianball.com/tickets/.
One suggestion, if you plan to make dinner part of the evening out, please be sure to eat early so that you can lace your corset as tightly as possible and assure yourself of a perfect hourglass figure. This will assure your place in time, and this applies to men, too. Yes, there were quite a few laced up in leather, and wearing ample amounts of eyeliner and mascara!
And don't forget to have a waltz with your sweetie! The night was made for dancing, prancing and romancing.