Come Network and Meet New Film Business Contacts
at Bay Area Film Mixer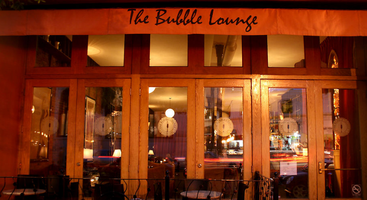 Saturday, November 9, 2013 from 6:30 PM to 9:30 PM
By Ron Merk
As many of the readers of Indieplex Online Magazine know, I have been involved in promoting independent filmmaking in the San Francisco Bay Area since 2004. Starting with the live events I co-founded with Dan Gomes (The Filmmaker Resource Sharing Group) and its online descendant, Indieplex, I've always believed that the Bay Area could, should and will be an important center of professional filmmaking. Whenever I have the chance to get involved in a live event that promotes this cause, I rush up the hill and try to plant the Indie flag. So, while that hill may be steep, and there's lots of flack to avoid, here I go again.
I recently met Elena Altman who runs a non-profit called Movie Making Throughout the Bay! Inc, and she really has the "fire in the belly" that is needed to get people together, and help them share experience and contacts and ideas about media and filmmaking. So, I decided to help with the event that Elena has organized by being one of the sponsors and getting the word out to our more than 10,000 Indieplex members.
If you're in the entertainment, film or TV business, here's a chance to meet lots of people from around the Bay Area who may be able to help you with your project: get it financed, made, and distributed. It's rare that all these companies, film commissions and individuals are in the same place at the same time, so this is your chance to bring a handful of business cards, grab an equal or larger amount from other attendees, and get plugged into to new possibilities.
It's just a $5.00 donation, and that gets you a raffle ticket for some great prizes and services.
The location is:
Bubble Lounge
714 Montgomery Street
San Francisco, CA 94111
http://www.bubblelounge.com/san-francisco/multimedia/#

Tickets are available from Eventbrite. Here's the link: https://mmtb-mixer.eventbrite.com/
Here are the event details from the organizers, MMTB-Movie Making Throughout the Bay! Inc., headed up by Elena Altman:
AMAZING INFORMATIONAL BAY AREA MIXER AND NETWORKING EXTRAVAGANZA!!!!
We have invited many of the big players and filmmaking advocates across the entire Bay Area to Join forces to help us create a tighter network… we want to bring information to industry professionals and indie budget filmmakers that will build a bond and help us all reach the ultimate goal of bringing financing to the Bay Area Filmmaking Scene.
Speakers will include Film Commissions from all over the Bay Area, Non Profit Organizations, Film Finance Organizations, Guilds, Talent Scouts, Agents, Publishers/Distributors, Festivals, Collectives and Many Many More !!!!
SPEAKERS and Information Advocates Who Will Attend:
-Ron Merk Editor-in-Chief at Indieplex Online Film Magazine
-Matt Sussman Bay Area Video Coalition (BAVC)
-Maya Zuckerman with Transmediasf
-Doniphan Blair with Cinesource Magazine and A-Media
-Laurie and Steve Cozart with SLC Talent Factory
-Joanne Desmond, Steve Lutge, & President Jim Beaumonte of IATSE Local 16
-Katie Carney REEL Directory
-Elena Altman CEO/Founder of 501c3 Non Profit Organization- MMTB- Movie Making Throughout the Bay! Inc.
-Brena Bailey San Mateo County Film Commission
-Jeanie Haigh Livermore Film Commission
-Susannah Greason Robbins San Francisco Film Commission
-Barbara Hillman Berkeley Film Commission
-Curran Engle Global Film Ventures & Academy of Arts University
-Jody Yvette Wirt Whaddya Gonna Do About it Productions
-Laurie and Steve Cozart SLC Talent Factory
-Vincent Lowe 48 Hour Film Project
-Melanie Mentzel Berkeley Community Media (BCM)
-Jeff Lunzanga The Collective
-Jessica Brown Break Out Weekly
-Gini Graham Scott Changemakers Productions
and more to be announced!!!
The event organizer is: MMTB- Movie Making Throughout the Bay! Inc. is a 501c3 Non-Profit Filmmaking organization. Going on our 4th Year- We've made over 180 Shorts & 2 features- MMTB supports the efforts of Filmmakers, Actors, Performers and Industry Professionals throughout the Bay Area by providing a collaborative, supportive and fun environment for them to create, connect and succeed. Monthly Events and Screenings all over the Bay. – http://moviemakingbay.com/
Elena Altman is CEO/Founder & Board Member of MMTB- Movie Making Throughout the Bay! Inc. a 501c3 Non Profit Organization; Elena is also a Managing Director, Director, Actor (in over 45 films), Producer (over 180 shorts and 2 features, one in post), Cinematographer, Video Editor, Manager, Graphic Designer, Author, Poet, Artist, Software Test Engineer, Illustrator, Song Writer, Script Writer, Bookkeeper, etc etc…entrepreneur all the way. https://www.facebook.com/Elena.Altman