A Sad Farewell
Actress Julie Harris Has Left Us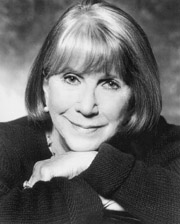 By Ron Merk
If you are not familiar with actress Julie Harris or her work, you have missed something amazing. She won more Tony Awards and Tony nominations than any other actress. She was a force of nature on the stage and on screen, not a loud and stormy one, but a gentle one that took you by the hand, and invited you into the intimate world of her character.
I was very saddened to hear that Julie Harris passed away on Saturday, August 24th at age 87. She left a remarkable legacy of stage and film work, one that most actors would be proud of. My first encounter with her was in the film East of Eden, starring alongside James Dean. Their performances in the film are extraordinary and unlike anything that was ever done in film before or since. I remember very well that scene where they are in the field, laying on the grass, and talking to each other. But it was more than just a great scene, it felt as if I was there, unseen but viewing them close up, and listening to what they were saying. Yes, eavesdropping on a intimate moment. It all seems so natural, and real. Of course, it was acting, but acting that "didn't show" like Olivier on film. The scene is clearly Julie Harris' scene, despite Dean being there with her. We cannot take our eyes off her.
Many years later, when I was at the NYU Film School, we had the opportunity to talk to the director of East of Eden, Elia Kazan. When asked about the scene, he said that it was Dean's idea that it should be Julie's scene, and Dean's generosity that allowed Julie Harris to dominate the scene. Dean felt it was important that the feelings of Harris' character be allowed to show (and I would add glow) in that scene. For me it is one of the most extraordinary moments in cinema. It is a scene that I can play over and over again in my head, one that has remained deep in my memory since I first saw the film.
A few years later, I was privileged to see Julie Harris on stage in The Belle of Amherst. In the play, she portrayed the poet Emily Dickinson. No, she inhabited Dickinson. Despite the fact that it was on stage, and by nature "theatrical," again I felt as if I was visiting with Emily Dickinson rather than watching Julie Harris play Dickinson.
Julie Harris had the extraordinary acting ability to make something seem natural and real. It wasn't that she was being natural and real, she was acting to make us feel just that. She made her characters seem alive. It's how I will always remember Julie Harris.
For more about her life and many awards: http://www.thewrap.com/culture/column-post/julie-harris-star-broadway-and-hollywood-dead-87-113076