The Ready Rig is The Reel Thing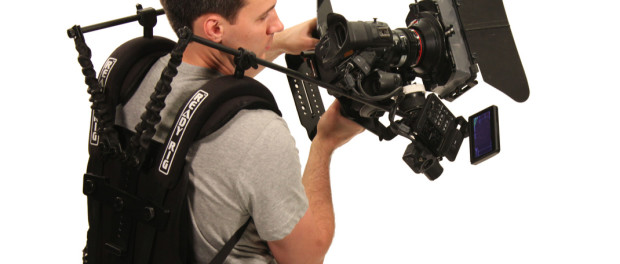 By Ron Merk
I know that most of what I've been writing lately is rants, but I'm pleased to report that this installment is an unqualified rave. As equipment for photography continues to migrate to electronic means vs. film recording, the need for support equipment continues to change and evolve. I've seen many camera support devices, shoulder rigs, stabilization devices like Steadicam and lower cost variations of same, and I've watched many of them in use, and the resultant images. They all promise ease of use and the ability to add greatly to production value. Some fare better than others in delivering on their sales promises.
But now there is The Ready Rig. This unit really delivers. Designed by veteran Director, DP and engineer, Mario Di Leo, this innovative camera support system has taken into consideration the faults, oversights and failures of many other similar types of equipment. Mario and his design team have engineered The Ready Rig, to add the ability of making very high angle and low angle boom shots, and at the same time, with stability unknown in previous devices, and the added twist, that the rig can also do "Dutch" angles, and combinations of all of the above.
The unit has the extraordinary ability to get a wide variety of shots that can be done with a minimum of physical stress on the camera operator. In fact, the camera just seems to float effortlessly in any direction, with the physical weight of the unit and the camera carefully redistributed on the operator, so that it's not about "carrying the camera" any more, but getting that perfect shot, steady as a rock. The use of an auxiliary, low cost flat screen monitor (not included) frees the camera operator's eye from the finder or small side monitory, and allows the director and the camera operator's fancy to truly take flight.
You can read more about the Ready Rig on the website of The Alba Group, which created and manufactures the units. The URL is http://www.albacamerasupport.com Facebook: https://www.facebook.com/ReadyRig
Check out the video demo which show the many ways the unit can be used to add production value to your project. The street price is $1,899.99, and the unit is available from a number of distributors in the USA and other countries on Facebook: https://www.facebook.com/ReadyRig
There are so many units on the market that make claims about their flexibility, strength, ease of use, and innovative features, but I have not seen anything at all which measures up to The Ready Rig. It's the steady rig, the solid rig, the flexible flyer rig. In fact, it's the real thing. It's just the tool you need to free yourself from technical concerns and focus on making your movie.
My company has acquired a Ready Rig recently and all I can say is it has made our work easier and given us production options that heretofore would have cost substantially more money in equipment and personnel. Oh, didn't I tell you? The Ready Rig takes only one person to operate and it gets you the shots only before possible with an extended crew. As indie filmmakers, production value is the one area in which we must excel and be competitive, and the Ready Rig can really keep you in the game.
The Alba Group also offers two other camera support devices that are definitely worth checking out, their pedestal dolly and their Slik camera slider device. This is a company to watch! Here is their contact information:
The Alba Group, Ltd.
11144 Penrose Street, Building 11
Sun Valley, CA 91352-5601
Information and Sales :
Tel: 800-874-3098
Email: Sales@AlbaCameraSupport.com
Please tell them that Ron Merk from Indieplex Online Magazine sent you.
http://www.tvtechnology.com/prntarticle.aspx?articleid=218684
B&H Buyers are in love with The Ready Rig. See what one of their customers has to say:
"Incredibly Versatile Camera Support
By Nate the Great from Los Angeles, CA
Business Owner, Professional Artist
I don't usually rave about gear, but this rig takes the cake. It is absolutely terrific for shooting events where you might otherwise get fatigued from holding the camera all day. You can take the camera way up high or down to knee level for a low shot without any of the usual strain on your back or shoulders due to the rod system that transfers most of the weight to your hips. This system would work really well for anything though– Commercials, TV (I've shot on reality shows using monopods and this thing would work much better) or movies. And it's a great value at the price. You can drop that much on a shoulder rig without even thinking about it and this rig will do ten times what a shoulder rig does.