3D Expo
Coming at You Soon!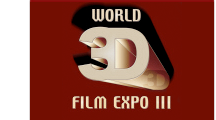 By Ron Merk
A while back, I wrote a piece about the 3D Expo that was being planned for this September. Now it's just weeks away, and I wanted to remind all my readers of what a great show this will be. It's very rare that modern audiences have the opportunity to see vintage 3D films presented in a movie theater in dual-projector 35mm film. If you have never seen a film this way, you have missed one of the great thrills of movie-going. But there's a chance for you to make up for this. It's the upcoming 3D Expo in Los Angeles.
You can see the complete schedule at: http://www.3-dfilmexpo.com/filmguide/festival-schedule
Jeff Joseph, a film archivist and one of the key members of the 3D Expo team wrote me the following:
"Many of the prints being run are "last surviving prints" and are unlikely to be run through a projector again, at least anytime soon. As we know, there are fewer and fewer theatres capable of running 35mm, let alone dual-interlock, have a silver screen, qualified operators, and so forth.
In particular, I'd like to mention the "Rarities" screening on Saturday, September 14th.  We never release the schedule of what we're running at Rarities ahead of time, but I can say this: The show will consist of the "Best of Rarities" from Expo 1 and Expo 2, as well as materials discovered after the last Expo in 2006. There is stereoscopic material going back as far as 1922, fragments of "lost" feature films, rare short subjects, historical footage, and much more. This is a 3 hour show for the real 3-D Geeks, but also for people interested in "lost" technologies.  At least one item we are showing is not only one of a kind, but it can not be duplicated using current modern technology. 
While I hesitate to say "never", I really can't imagine another Expo happening, and I am virtually certain that many of these Rarities will never been seen in a theatrical setting again. Try not to miss it!"
Jeff is an ardent, dedicated preservationist of rare 35mm 3D elements and films, and has assembled an amazing program that, indeed, may NEVER be repeated. Don't miss this chance to see films that will truly amaze you, thrill you and help you understand how important it is to save these films, and make them available for future generations. The event is produced by his company, Sabucat Productions, and pays tribute to what many film historians regard as the "Golden Age" of 3-D on its 60th anniversary,
The World 3-D Film Expo III will dazzle on the big screen at the Egyptian Theatre (6712 Hollywood Boulevard, Los Angeles, CA 90028) with "Excitement that can almost touch you!" from
September 6-15, 2013. The ten-day festival will include 35 screenings of classics, restorations, premieres and rarities in a combination of 35mm 3-D projection and state-of-the-art RealD 3-D. Most programs being presented at the festival will be shown in archival double-system 35 mm. prints, many of them the last known copies.
Tickets for the festival are available on the Expo website at: www.3-dfilmexpo.com or by calling the Expo Box Office at (661) 724-0934. Individual tickets are $18 per show; an Expo Pass for all 35 programs is available at $399 including priority seating.