Film is NOT Dead!
Ask Eastman Kodak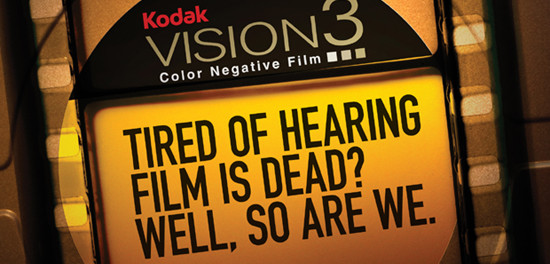 By Ron Merk
If you're wondering if film is dead, check the following list of films and television shows that have been shot on film. Eastman Kodak just published the list on their website to remind us that film is still the medium of choice of some of the best filmmakers in the business. We've heard lots about Eastman Kodak's money worries and their bankruptcy, but it's very clear that they intend to remain in the film manufacturing business and be the biggest single supplier of film in many different formats for the foreseeable future.
This is not an advertisement for Kodak, but it is intended to convince some of our readers that there are definite benefits to shooting on film. There's been some recent news from Italy that Ferrania is going back into the film manufacturing business in 2014.
So, while digital media has its apparent advantages, it is not the be-all and end-all for filmmakers as may have been reported elsewhere, or which might be the current opinion of those not in-the-know.
Take a look at this list, and you may be surprised at how many films and shows are still being shot on film.
I'm working on some other articles about why film should not be overlooked because of the "apparent benefits" of shooting on digital media. Stay tuned to this site.
Title
Director
DP
Star Trek Into Darkness
J.J. Abrams
Dan Mindel, ASC, BSC
Man of Steel
Zack Snyder
Amir Mokri
The Lone Ranger
Gore Verbinski
Bojan Bazelli, ASC
The Hunger Games Catching Fire
Francis Lawrence
Jo Willems, BSC
The Hangover Part III
Todd Phillips
Larry Sher
Boardwalk Empire (HBO)
Various
David Franco
Fast & Furious 6
Justin Lin
Stephen F. Windon, ACS
Inside Llewyn Davis
Joel and Ethan Coen
Bruno Delbonnel, AFC, ASC
Mud
Jeff Nichols
Adam Stone
True Blood (HBO)
Various
David Klein, ASC and Romeo Tirone
The Heat
Paul Feig
Robert Yeoman, ASC
Blue Jasmine
Woody Allen
Javier Aguirresarobe, AEC
Fruitvale Station
Ryan Coogler
Rachel Morrison
Breaking Bad (AMC)
Various
Michael Slovis, ASC
Transcendence
Wally Pfister, ASC
Jess Hall, BSC
The Amazing Spider-Man 2
Marc Webb
Dan Mindel. ASC, BSC
Runner Runner
Brad Furman
Mauro Fiore, ASC
August: Osage County
John Wells
Adriano Goldman, ABC
Mandela: Long Walk to Freedom
Justin Chadwick Lol Crawley
All You Need Is Kill
Doug Liman
Dion Beebe, ASC, ACS
Robopocalypse
Steven Spielberg
Janusz Kaminski
Noah
Darren Aronofsky
Matty Libatique, ASC
2 Guns
Baltasar Kormakur
Oliver Wood
Cinderella
Kenneth Branagh
Haris Zambarloukos, BSC
Noble
Stephen Bradley
Trevor Forrest
How to Catch a Monster
Ryan Gosling
Benoit Debie
American Horror Story (FX)
Various
Michael Goi, ASC
God Help the Girl
Stuart Murdoch
Giles Nuttgens, BSC
Half of a Yellow Sun
Biyi Bandele
John de Borman, BSC
Nina
Cynthia Mort
Mihai Malaimare Jr.
Now You See Me
Louis Leterrier
Mitchell Amundsen; Larry Fong, ASC
The Butler
Lee Daniels
Andrew Dunn, BSC
Malavita
Luc Besson
Michel Abramowicz
The Invisible Woman
Ralph Fiennes
Rob Hardy, BSC
Twelve Years a Slave
Steve McQueen
Sean Bobbitt, BSC
Foxcatcher
Bennet Miller
Greig Fraser, ACS
Hidden Universe
Russell Scott
Malcolm Ludgate, ACS
True Detective (TV)
Cary Fukunaga
Adam Arkapaw
Olympus Has Fallen
Antoine Fuqua
Conrad W. Hall
G.I. Joe: Retaliation
Jon M. Chu
Stephen Windon, ACS
The Place Beyond the Pines
Derek Cianfrance
Sean Bobbitt, BSC
Sweetwater
Logan Miller and Noah Miller
Brad Shield
Unfinished Song
Paul Andrew Williams
Carlos Catalan
Red 2
Dean Parisot
Enrique Chediak, ASC
The Spectacular Now
James Ponsoldt
Jess Hall, BSC
Percy Jackson: Sea of Monsters
Thor Freudenthal
Shelly Johnson, ASC
Blood
Nick Murphy
George Richmond
Ain't Them Bodies Saints
David Lowery
Bradford Young
Austenland
Jerusha Hess
Larry Smith, BSC
Two and a Half Men (TV)
Various
Steven Silver, ASC
The World's End
Edgar Wright
Bill Pope, ASC
Closed Circuit
John Crowley
Adriano Goldman, ABC
Emperor
Peter Webber
Stuart Dryburgh, ASC
Last Days on Mars
Ruairi Robinson
Robbie Ryan
Oldboy
Spike Lee
Sean Bobbitt, BSC
The Walking Dead (AMC)
Various
Rohn Schmidt
Don Jon
Joseph Gordon-Levitt
Thomas Kloss
Kill Your Darlings
John Krokidas
Reed Morano, ASC
The Monuments Men
George Clooney
Phedon Papamichael, ASC
Saving Mr. Banks
John Lee Hancock
John Schwartzman, ASC
The Secret Life of Walter Mitty
Ben Stiller
Stuart Dryburgh, ASC
Jack Ryan
Kenneth Branagh
Haris Zambarloukos, BSC
Grace of Monaco
Olivier Dahan
Eric Gautier, AFC
Spring Breakers
Harmony Korine
Benoît Debie
The Great Beauty (La Grande Bellezza)
Paolo Sorrentino
Luca Bigazzi
Beasts of the Southern Wild
Behn Zeitlin
Ben Richardson
Savages
Oliver Stone
Dan Mindel, BSC, ASC
The Sapphires
Wayne Blaire
Warwick Thornton
Bourne Legacy
Tony Gilroy
Robert Elswit, ASC
Premium Rush
David Koepp
Mitchell Amundsen
Oslo, August 31st
Joachim Trier
Jakob Ihre
What Maisie Knew
Scott McGehee, David Siegel
Giles Nuttgens, BSC
For Ellen
So Yong Kim
Reed Morano, ASC
The Company You Keep
Robert Redford
Adriano Goldman, ABC
The Master
Paul Thomas Anderson
Mihai Malaimare, Jr.
Arbitrage
Nicholas Jarecki
Yorick Le Saux
Looper
Rian Johnson
Steve Yedlin
Taken 2
Olivier Megaton
Romain Lacourbas
Jayne Mansfield's Car
Billy Bob Thornton
Barry Markowitz, ASC
Seven Psychopaths
Martin McDonagh
Ben Davis, BSC
Argo
Ben Affleck
Rodrigo Prieto, ASC, AMC
Midnight's Children
Deepa Mehta
Giles Nuttgens, BSC
Cloud Atlas
Tom Tykwer, Andy and Lana Wachowski
John Toll, ASC, Frank Griebe
Lincoln
Steven Spielberg
Janusz Kaminski
Dangerous Liasons
Jin-ho Hur
Byung-seo Kim
Anna Karenina
Joe Wright
Seamus McGarvey, ASC, BSC
A Royal Affair
Nikolaj Arcel
Rasmus Videbæk
The Twilight Saga: Breaking Dawn – Part 1 and 2
Bill Condon
Guillermo Navarro, ASC
Silver Linings Playbook
David O. Russell
Masanobu Takayanagi
Killing Them Softly
Andrew Dominik
Greig Fraser
Les Miserables
Tom Hooper
Danny Cohen, BSC
The Impossible
Juan Antonio Bayona
Óscar Faura
On the Road
Walter Salles
Eric Gautier, AFC
Jack Reacher
Christopher McQuarrie
Caleb Deschanel, ASC
The Guilt Trip
Anne Fletcher
Oliver Stapleton, BSC
Django Unchained
Quentin Tarantino
Robert Richardson, ASC
Parental Guidance
Andy Fickman
Dean Semler, ASC, ACS
Passion
Brian De Palma
José Luis Alcaine
La Scoperta Dell'alba
Susanna Nicchiarelli
Gherardo Gossi
Doc Martin (TV)
Various
Simon Archer
Dostoevsky (TV)
Vladimir Hotinenko
Elias Demin, RGS
Glee (FOX)
Various
Joaquin Sedillo
Grey's Anatomy (TV)
Various
Herb Davis
Il Giovane Montalbano (TV)
Gianluca Maria Tavarelli
Lorenzo Adorisio
Il XIII Apostolo (TV)
Alexis Sweet
Mark Melville
Haven (SyFy)
Various
Eric Cayla
Let it Shine
Paul Hoen
David A. Makin
Merlin (TV)
Various
Various
Morton (aka Hunted) (TV)
Various
Various
Reef Doctors (TV)
Colin Budds (7 episodes)
Zenon "Butch" Sawko
Tatort (TV)
Various
Various
The Cafe (TV)
Various
Various
The Middle (TV)
Various
Blake Evans
Treme (HBO)
Various
Ivan Strasburg, BSC
Quartet
Dustin Hoffman
John De Borman, BSC
Stoker
Chan-wook Park
Chung-hoo Chung
Camille Claudel
Bruno Dumont
Guillaume Deffontaines
Jappeloup
Christian Duguay
Ronald Plante
'79 Parts
Ari Taub
Minos Papas
Paradise Lost
Andrea Di Stefano
Luis David Sansans Arnanz
Autumn Blood
Markus Blunder
Reed Morano, ASC
Desert Dancer
Richard Raymond
Carlos Catalan
Filth
John S. Baird
Matthew Jensen
Snowpiercer
Joon-ho Bong
Kyung-Pyo Hong
The Double
Richard Ayode
Erik Wilson
Jadoo
Amit Gupta
Roger Pratt, BSC
Peeples
Tina Gordan Chism
Alexander Gruszynski
Ephraim's Rescue
T.C. Christensen
T.C. Christensen
Cut Bank
Matt Shakman
Ben Richardson

Read more: http://motion.kodak.com/motion/Customers/Productions/index.htm#ixzz2aURfLgHt