Zach Braff Kickstarter Controversy Rages On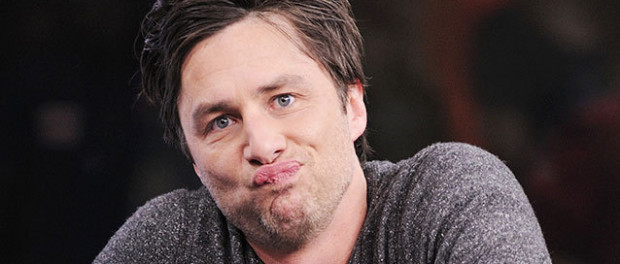 By Ron Merk
Some say the manure has hit the wind machine in Hollywood, as Kickstarter takes many hits because of Zach Braff's three-day blitz of his fans' wallets and the successful raising of the full two million dollars he says he needs for his follow up film to "Garden State."
Like much of what has happened in the film business over the past 40 years to constantly change the playing field for filmmakers, there is one constant: Any time something comes along that can really help independent filmmakers (cable TV with its promise of many specialty channels, home video, digital tools, and more recently crowdfunding) Hollywood soon realizes the value of these things to the bottom line, and then quickly subsumes the innovation or idea. This has historically dashed the hopes of filmmakers in the margins of the business finding their way to the center, or at least having a way of making a decent living as a filmmaker, and not having a so-called "day job" to pay the bills.
It would appear that once again filmmakers have been pushed to the sidelines of fundraising for their project by the big elephant in the room (famous people with big fan bases). While there's no language on our birth certificates that "life will be fair, " it seems to be that the initial goal of Kickstarter (now possibly evolved into something different) was to give independent artists a way to raise money for the projects that would never be realized without the financial help that Kickstarter initially promised.
When someone like Braff comes along and raises a two million dollars, more than two hundred $10,000 projects or four hundred $5,000 projects may not be able to find their funding because it's all been sucked up by the vacuum of Braff's or Veronica Mars' celebrity. There is only a finite amount of money out there, and when big projects take large chunks of it, small projects can not get funded. In an earlier article I wrote on this subject, I likened crowdfunding to a ponzi scheme. I have not changed my opinion on that subject. Crowdfunding has become too crowded. In the end, someone is NOT going to get the money they're seeking.
There has been lots of noise about this recent Kickstarter issue. Read more about it.
"Don't Hate on Zach Braff – Rage Against Kickstarter's Perry Chen" by Reginald Nelson
http://www.thewrap.com/media/blog-post/don-t-hate-zach-braff-rage-against-kickstarters-perry-chen-88081
One short excerpt:
Kickstarter was co-founded by its current CEO Perry Chen, a struggling former musician and gallerist. Chen, along with Charles Adler and Yancey Strickler, started the brilliant crowdfunding site for creative artists and inventors who would raise money based on how good your "idea" or concept is. Backers support you not based on how much profit the product would generate but on what they want to see enter the creative space.
Filmmaker Magazine – Letter from Scott Macaulay
https://mail.google.com/mail/u/0/?hl=en&shva=1#inbox/13e47ece5fa9f7b1
One short excerpt:
Perhaps Braff's campaign just represents a maturing of the platform in the same way that Apple is now morphing into a more predictable value company instead of a high-stock price growth engine. But one thing in Braff's Kickstarter video rubbed me the wrong way. It was his rant against "the money guys." Basically, he said, he had this cool movie, but the money guys won't let him do things like cast the actors he wants and shoot a scene at Comic-Con. Who are these money guys? Can't Braff find other ones? He's got a track record, as do his two producers. I should also note that the money guys have read the script, while his Kickstarter backers — his new money guys — have not.
New Zach Braff Movie Hits Kickstarter Goal, Could It Threaten 'Veronica Mars' Record? By Lucas Shaw
http://www.thewrap.com/movies/article/new-zach-braff-movie-hits-kickstarter-goal-could-it-threaten-veronica-mars-record-88126
Two Short Excerpts:
Many have rebuked Braff and Kickstarter over the past few days, both on Twitter and in the press, unhappy that Braff can raise so much money for a project because of his celebrity. More than 60 percent of the 25,000-plus film and video projects launched on Kickstarter have failed and no successful project had topped $1 million until "Veronica Mars."
Kickstarter founders Perry Chen, Yancey Strickler and Charles Adler created the platform to help anyone with a creative idea secure financial backing for their project. They never specified restricting the platform to those without financial wherewithal and have stayed out of this recent scrum.
So has Braff, beyond having this to say to his critics: "The people who would say, 'Fuck him, he should pay for it himself,' I don't expect those people to be the supporters of this project. […] It's not a scam. If I wanted to make dough, I'd go back and be on another TV show."
Are Hollywood Millionaires Ruining Kickstarter? Let's Ask the Internet by Diane Garrett
http://www.thewrap.com/media/article/are-wealthy-celebrities-ruining-kickstarter-lets-ask-internet-87641
One short excerpt:
By mid-afternoon, Braff was half-way to his $2 million goal. But passions were running high against the campaign on social media, with a sizable contingent questioning whether wealthy celebrities should use a platform favored by those without similar financial access.
Filmmaker Tony Rocha implored people not to give Braff money for his project. "Please do not give Zach Braff your money," he tweeted.
"I have never seen so much hatred toward Kickstarter/crowdfunding in a single day," tweeted Ben Leach.