World 3-D Film Expo III Returns to Egyptian Theatre in Hollywood
3D – Coming At You!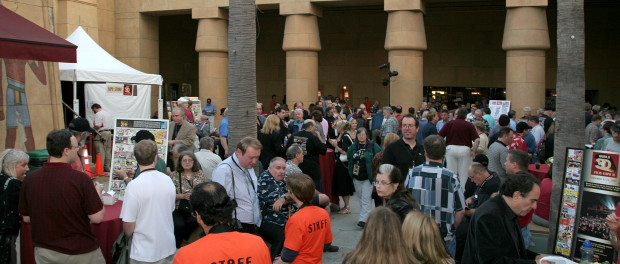 By Ron Merk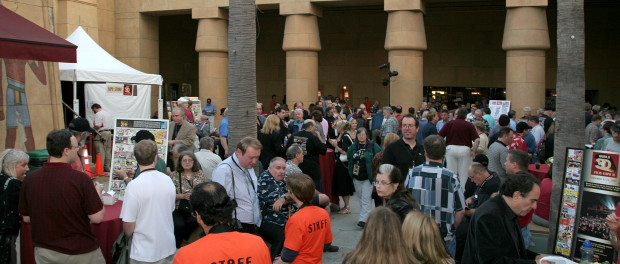 As a kid back in Newark, NJ, I just fell in love with the movies, and it's where I loved to spend my weekends. I remember the first 3D movie I ever saw, and quite vividly, since it was "The Charge At Feather River," replete with flying arrows and tomahawks which we all ducked as they came zooming at us in very amazing dual-projector 3D. I remember looking around the theater and seeing a room full of people, all wearing 3D glasses. It was like a trip to another planet in some ways.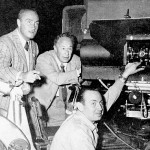 The 3D fad (as it came to be known later) ran for a few years, and for the most part the films made in this process were programmers as they used to call B-pictures. Action, adventure and horror were the main genres portrayed in three dimensions. But they were fun, and we always looked forward to any film that advertised it was "coming at you in 3D." There were a few good films made in 3D, including "Kiss Me Kate" and Hichcock's "Dial M For Murder." But for the most part, critics were not kind to 3D films and used to say, "if you want a lion in your lap this is the film for you," or other such derogatory references. But audiences loved these movies, and always came away with the feeling that they had been thoroughly entertained.
Of course, it's now nearly 60 years since most of these films were made, and unfortunately, they rarely get screened in 3D, if at all. But there's good news. Jeff Joseph (of the late, great Sabucat Productions) and his great team, are doing a massive, wonderful 3D event in Los Angeles in September, at the Egyptian Theater in Hollywood. It's a rare chance to see these films as they were intended to be seen. They've also unearthed 3D films that were never shown in 3D or for which elements had been lost and recently located, as well as shorts, cartoons and 3D rarities (one of my favorite programs).   So, if you're a student of film, technology or just love movies, check out the website, don't say I didn't warn you that "they're coming at you."
I normally don't "promote" events on this site, but this is a real chance to see a true piece of film history, and one that now resonates with filmmakers and audiences as the new wave of 3D films hits our screens.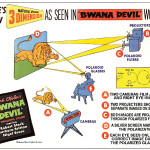 The presentation at the Egyptian is first class, with all of the films being shown in their original 3D process, whether polaroid or anaglyptic or "other." I attended the first 3D Expo that Jeff and his team put together about 10 years ago, and I can tell you that seeing these films again in 3D on the big screen was simply thrilling. Audiences, too, are great, as they cheer the characters or react loudly to what's happening on the screen (and off!). Pick up a large popcorn at the concession, and get ready to have a great time. And if you do get a lion in your lap, just remember that Ron sent you!
Here's the complete information on the festival:
Hollywood, CA – The World 3-D Film Expo will return to the Egyptian Theatre, September 6-15, 2013. The ten-day festival will pay tribute to the 60th anniversary of what many film historians regard as the "Golden Age" of 3-D, and will include screenings of the John Wayne western HONDO, the Vincent Price horror film HOUSE OF WAX, Cole Porter's musical KISS ME KATE, and sci-fi thriller IT CAME FROM OUTER SPACE., and even later 3-D films, such as 1983's JAWS 3-D. Lesser-known titles, such as THE FRENCH LINE with Jane Russell and SECOND CHANCE with Robert Mitchum, will also be included.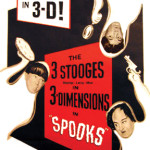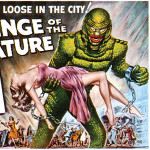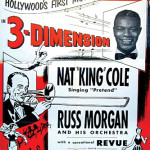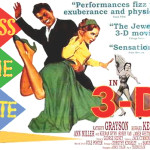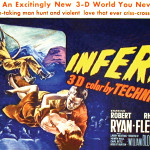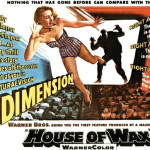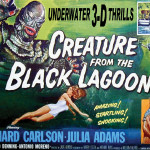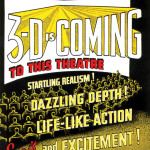 The Expo is partnering with digital 3-D projection sponsor RealD to present a number of screenings in RealD 3-D including Alfred Hitchcock's DIAL M FOR MURDER and Jack Arnold's sci-fi/horror classic CREATURE FROM THE BLACK LAGOON. Stefan Droessler, 3-D historian and head of the Munich Film Museum, will present an in-depth overview of "European 3-D Filmmaking 1935-1953," including long-lost footage from the 1936 Berlin Olympics.
The festival will also be home to several premieres including the Los Angeles Premiere of the 1946 Russian 3-D adaptation of ROBINSON CRUSOE. September 14th will mark the World Premiere of the stereoscopic version of the 1954 Korean War drama, DRAGONFLY SQUADRON. The film was only released in a flat version during its initial release, and has never been seen by audiences in 3-D. Newly-restored 35 mm prints of shorts "Rocky Marciano, Champion vs. Jersey Joe Walcott, Challenger" and "College Capers" will be screened in 3-D for the first time in 60 years. Most programs being presented at the festival will be shown in archival double-system 35 mm. prints, many of them the last known copies.
The World 3-D Expo has been called "a Woodstock for movie geeks" by film critic Leonard Maltin. Organized by Jeff Joseph of SabuCat Productions, the Expo was first presented at the Egyptian Theatre to sold-out crowds in 2003 and again in 2006. "The technical demands of presenting 3-D cinema and the increasing difficulty of finding prints means that for many of the films presented, this may be the last time they are ever screened in this format" says producer and programmer Jeff Joseph.
Tickets for the festival are available on the Expo website at www.3-dfilmexpo.com or by calling the Expo Box Office at (661) 724-0934.  Individual tickets are $18 per show; an Expo Pass for all 35 programs is available at $399 including priority seating. The World 3-D Film Expo will be held at the Egyptian Theatre at: 6712 Hollywood Blvd., Hollywood CA 90028.
Please note that the World 3-D Film Expo III is not a presentation of the American Cinematheque which owns and operates the Egyptian Theatre.
For more information about the Expo, please contact Jack Theakston (jack@3-dfilmexpo.com) or Dennis Bartok.  For more information about RealD, please contact Heather Dawe, Director Marking – RealD at phone: 310-385-4015 or e-mail: hdawe@reald.com.