Frameline – Where Dreams Come True
and Art Imitates Life or Vice Versa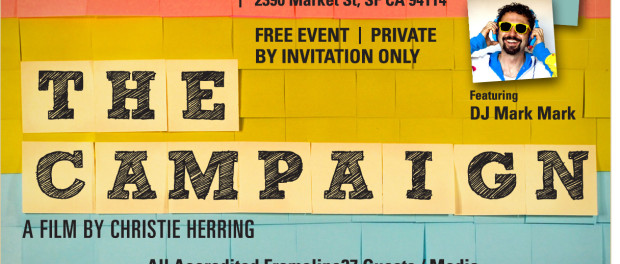 By Ron Merk
My friends, Christie Herring and Marc Smolowitz worked for years on the documentary, "The Campaign," which premiered at this year's Frameline37 LGBT Film Festival. At the time of their screening, the rulings from the Supreme Court had not yet been made, but everyone was hopeful that the justices would determine that the right to marry is one that belongs to all of us, no matter who we intend to marry, including members of the same sex.
Just days after the screening, the Court ruled that The Defense of Marriage Act was unconstitutional, and all everyone should not only be free to marry whom they pleased, but that they should be entitled to all rights provided to U.S. Citizens and their spouses under Federal Law. They likewise struck down Proposition 8 (the so-called Mormon proposition because of their support of this law which essentially took rights away from gay people). Of course, there was dancing in the streets of San Francisco, and a frantic shoot for the new ending for The Campaign. It is a happy ending, something we rarely see in documentary films.
I was privileged to be at the Castro for the screening, and for the after party. With my somewhat disadvantaged video camera and camera phone, I was able to capture some of the excitement of all these events. The material was edited into a short video by Adam Dziesinski, an intern in our office, who I think did a great job telling the story of how peoples' dreams came true.